Faulty hood fan blamed in Valentine's Day evacuation of restaurant
Feb 16 2012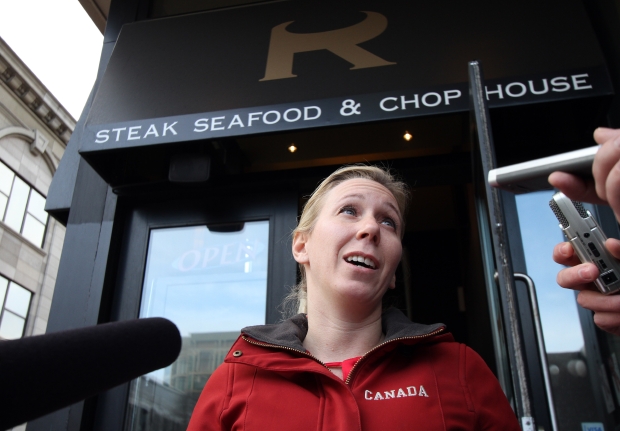 Ric's Grill area manager Val Lessard speaks to reporters outside the chain's downtown Victoria outlet.
Photograph by:
Bruce Stotesbury, Victoria Times Colonist, Feb. 15, 2012
A faulty hood fan was the culprit that caused a Valentine's Day evacuation at Ric's Grill.
About 30 diners were at the Government Street restaurant when the fan problem in the kitchen led to a jump in temperature that triggered the sprinkler system about 7:45 p.m., said Ric's Grill area manager Val Lessard.
None of the diners got wet because most of the water was in the kitchen, she said.
"No guests were at any risk at any time."
Lessard said both staff and emergency crews made a commendable effort in dealing with the situation.
"Most of all, Ric's Grill would like to apologize and thank the patrons for being patient and understanding," she said.
If all goes well, the restaurant could re-open by the weekend, Lessard said.
"We're hoping to open Saturday, so that's the plan," she said. "We are closing our doors for a couple of days in order to repair everything."
Lessard said it is not known how much the repairs will cost or how much business will be affected.
"It is definitely a financial loss for us."
She said the dining room came through fairly well.
"The dining room got minimal water damage to it. The water was seeping to the dining room but we got that under control very quickly."
Efforts to get the restaurant ready for business are well underway.
"We are currently assessing all the damage and are in the process of repairing, as well," Lessard said.
She said that having to close on Valentine's Day was tough for both the restaurant and for diners who had their meals interrupted.
"It's a pretty big night for pretty much any restaurant business. We did have quite a few reservations and were pretty full.
"It's an unfortunate circumstance, and we certainly hope to see our guests coming back really soon."
jwbell@timescolonist.com
We thought you might also be interested in..