Elk Lake algae could kill pets
Feb 16 2012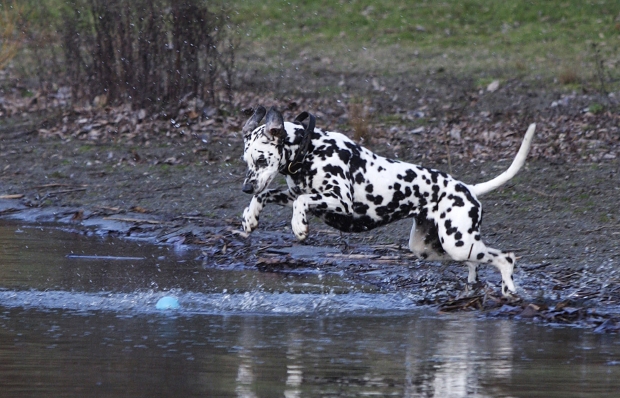 A dog chases a ball at Elk Lake, which has been partly tainted by a toxic algae bloom.
Photograph by:
Lyle Stafford, Victoria Times Colonist, Feb. 15, 2012
The brightly coloured gunk clogging parts of Elk Lake is potentially a pet-killer, the Capital Regional District confirmed Wednesday.
Water quality tests, conducted by the CRD after the aquamarine soup was reported Saturday, found it was caused by a blue-green algae bloom, said Janette Loveys, park operations services manager.
"There are several varieties of blue-green algae and they are not all toxic, but this is a form that is toxic," she said.
Any dog that drinks the water is likely to become ill and it could be fatal, Loveys said.
"If your pet does drink it, take it to the vet right away," she said.
The algae bloom is also toxic for people and no one should swim in parts of the lake where the algae can be seen, but it is unlikely to kill them, Loveys said. The algae can produce everything from skin rashes to stomach cramps and fever, according to the B.C. Environment Ministry website.
It is not known whether the algae is producing neurotoxins, which can kill animals rapidly, or hepato-toxins, which affect the liver and can cause a slower death.
"Either stay away from the area if pets like to run free, or keep them on a leash, particularly near the Elk Lake water," Loveys said.
Warning signs went up at Elk/Beaver Lake Regional Park Wednesday morning and dog owners are taking them seriously.
"I saw the scum on Sunday. It's disgusting and I wondered what it was," said Judy Cumming, who owns two Jack Russell terriers that usually run free at the lake.
"It will be leashes only and I won't be letting them swim," she said.
The algae bloom seems to be concentrated near the Victoria Rowing Society boathouse and the Pat Bay Highway, but does not appear to have spread to Beaver Lake, Loveys said.
Algae blooms have occurred previously in Elk Lake and it is likely to disappear naturally within a couple of weeks, she said.
"The blooms are fairly shortlived. We do know that, in other areas, blooms have died within one or two weeks," she said.
Dorothy Chambers, who reported the weird-coloured water Saturday, is a Colquitz Creek volunteer and hopes the bloom does not affect the creek, which was hit recently with a spill of home heating oil. "[The lake] was such an unnatural aquamarine blue and it is the headwaters for Colquitz Creek," she said.
Loveys said blooms have never previously affected Colquitz, possibly because the algae do not flourish in running water.
Park visitors should watch out for other blooms in areas such as Durrance or Matheson lakes and report them to the CRD, she said.
Diana Varela, associate professor of biology at the University of Victoria's school of earth and ocean sciences, said blooms occur when there is sufficient light and nutrients.
Daylight is getting longer and nutrients can come from many sources, such as goose droppings, agricultural runoff, fertilizer or manure, she said.
In oceans and lakes worldwide, there is a growing problem with blooms caused by agricultural runoff, Varela said.
jlavoie@timescolonist.com
We thought you might also be interested in..