More free Wi-Fi coming to downtown Victoria
Feb 16 2012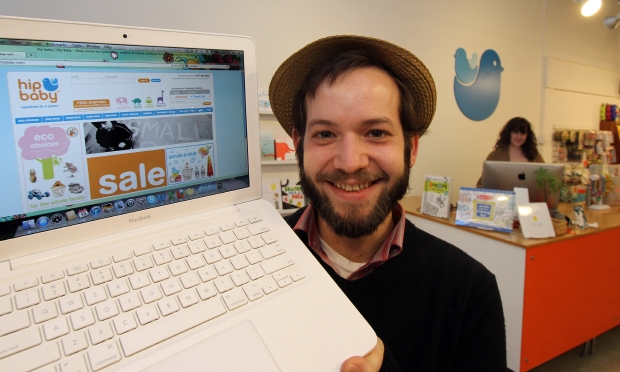 Liam McLachlan runs a service that provides free internet access service, sponsored by businesses. He has six locations, including at Hip Baby, and plans to expand.
Photograph by:
Bruce Stotesbury, Victoria Times Colonist, Feb. 15, 2012
Residents and visitors will soon have more access to free Wi-Fi in downtown Victoria.
Liam McLachlan won a recent technology contest that gave him a $3,500 prize to expand a free Internet service. The 26-year-old is thrilled to have the means to extend free access in a city with "one of the highest costs of living and one of the lowest minimum wages."
"It's all about enhancing Victoria and making it a more successful and affordable place to live," McLachlan said.
And the Downtown Victoria Business Association's plan to provide free access throughout downtown will be a reality by spring. The equipment is to be in place by the end of this week and testing will follow, said Ken Kelly, manager of the DVBA.
It's part of a growing movement in cities worldwide to provide free Wi-Fi to residents and tourists. In Canada, Fredericton pioneered free Wi-Fi, setting it up almost 10 years ago. There, it is viewed as part of the municipal infrastructure.
In Greater Victoria, Langford has free Wi-Fi along much of Goldstream Avenue and at City Centre Park.
"Wi-Fi is becoming more of an expectation than a luxury for people," Kelly said.
"Everyone seems to have smarter and smarter phones and are conscious of what they are paying, so residents and tourists look for free Wi-Fi wherever they can find it."
Many coffee shops, restaurants and hotels provide free Wi-Fi to attract customers.
Shaw Communications is testing a Wi-Fi network in Calgary, Edmonton and Vancouver that provides Internet access in public places. While not free, Shaw's Internet customers do not have to pay extra. It's slated to come to Victoria in the next 18 months, Shaw has said.
The more opportunities for free access to the Internet, the better, said Dan Gunn, executive director of the Victoria Advanced Technology Council, a sponsor of the contest that McLachan's company, MeshMesh, won. Gunn sees it as a help for tourism. "What if you're visiting from Seattle and you want to learn about a business here but don't want to pay roaming charges to connect? That will no longer be a problem."
McLachlan also sees residents benefiting.
"If Internet access costs for a family are hundreds of dollars a year, that adds up quickly. That could be school supplies, rent or groceries for a month," he said. "Being able to level the playing field for students or low-income earners is key."
Under his program, businesses buy a $150 device from MeshMesh, which sets it up. The free Wi-Fi spot is marked, and when passersby connect, information about the business pops up first on the screen. There are six in Victoria already. It's a good way for businesses to let people know their hours, locations and specials, said McLachlan.
"Once businesses realize they get something in return for this community effort, they are very interested."
kwestad@timescolonist.com
We thought you might also be interested in..