Police calls down 26% in four years
Feb 16 2012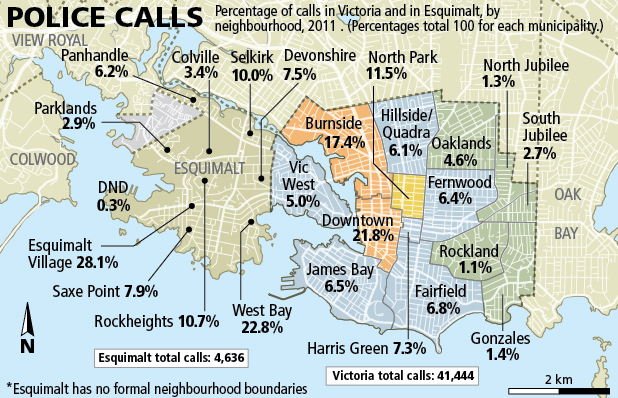 Where police were called in Esquimalt and Victoria
Photograph by:
Rob Struthers, Victoria Times Colonist, Feb. 16, 2012
Crime in the capital is steadily edging downward, new figures from Victoria police show, following a nationwide trend in crime reduction.
Victoria police released statistics Tuesday that show calls for service in 2011 dropped 26 per cent compared with 2007.
Property crimes dropped almost across the board, most notably with a 41.7 per cent drop in car thefts in 2011 compared with the year before and a 31.9 per cent drop in residential break-ins. Only commercial break-ins bucked the trend, jumping by 27.9 per cent.
While there were two homicides in Victoria in 2011 compared with one in 2010, violent crime dropped overall, with a 24.4 per cent drop in robbery or extortion, a 17.7 per cent drop in assault and 9.7 per cent reduction in sexual assault.
The highest crime levels are concentrated in Victoria's downtown core - 21.8 per cent of the city's calls. But officials say that is common in most cities across Canada.
Ken Kelly, of the Downtown Victoria Business Association, said many of the region's 350,000 people go downtown to work, shop, eat or drink, and with higher levels of activity and high-density buildings comes higher crime.
Kelly said many downtown business are investing in security cameras or security guards to protect themselves from break-ins, and programs like Retail Cop have allowed businesses to share information on chronic shoplifters.
The Burnside-Gorge area is next on the list for most police calls, with 17.4 per cent of Victoria's calls. The area includes the Rock Bay Landing homeless shelter, which has attracted some of the street population who once frequented Our Place in the 900 block of Pandora. Gorge Road East is also home to several high-density, low-income apartment buildings that generate some problems for police.
Victoria police say the Crime Free Multi-Housing program, which connects property managers with officers and encourages residents to report crime when it happens, has helped reduce calls to that area over the past few years.
In Esquimalt, the largest percentage of police calls in the township, 28 per cent, come from Esquimalt Village, which includes the Archie Browning Centre and other major shopping plazas along Esquimalt Road.
The largest reduction in calls between 2011 and 2010 involved the leastserious priority-four calls, which include noise or traffic complaints. Those calls dropped 13.6 per cent.
Priority-three calls, such as street disorder or car break-ins, dropped by 8.5 per cent. Priority-two calls, such as break and enter in progress, dropped by 9.5 per cent. The most serious calls, such as an assault or homicide, dropped by just 2.6 per cent.
Victoria police Deputy Chief John Ducker spoke at Tuesday's police board meeting of the "black hole" of crime, minor calls that people decide not to report because they do not think it is important or that police will respond.
Esquimalt Mayor Barb Desjardins said that, several years ago, residents told her they would not bother to call Victoria police about teens drinking in a park or other mischieftype calls because officers would take so long to respond. "In years gone by, we had a significant number of very vocal people that were constantly letting us know that police were not responding, response time was bad and that's why they're not calling," Desjardins said.
She has not heard that complaint as much lately, but said she is looking forward to a public meeting to hear more from residents. kderosa@timescolonist.com
We thought you might also be interested in..