Health authority bungled closing of Cowichan Lodge, says ombudsperson
Feb 16 2012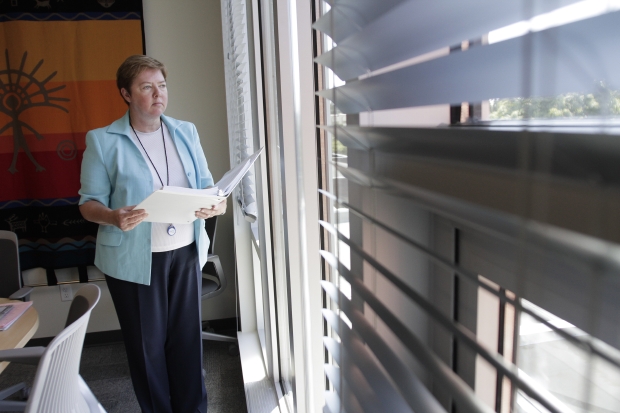 B.C. Ombudsperson Kim Carter released a report Tuesday that criticized how Vancouver Island Health Authority handled the closing of Cowichan Lodge.
Photograph by:
Lyle Stafford, Victoria Times Colonist, ...
Vancouver Island Health Authority badly bungled the closure of Duncan's Cowichan Lodge, providing inadequate information, adding unnecessary confusion and failing to consider the risks to residents' health, B.C.'s ombudsperson said Tuesday.
Ombudsperson Kim Carter delivered a damning critique of how VIHA tried to use an exemption to close the seniors' complex care home in September 2008 with just two months notice, rather than the required 12-month period.
"As this investigation shows, and as VIHA in its report candidly admits, it did not follow the correct process in announcing the closure of Cowichan Lodge," Carter wrote.
Nanaimo-North Cowichan NDP MLA Doug Routley, who fought against the closure, applauded Carter for stepping up and investigating what the community knew to be true.
"It's cold comfort, but comfort nonetheless, to know that the experience they endured didn't go to waste," Routley said.
The health authority did not adequately inform residents in the 94-bed facility about why it was closing the lodge, how it would affect them and how they could transfer out of the facility, Carter said in her report, On Short Notice.
VIHA did not consider the specific risks to health and safety of Cowichan Lodge residents when it applied for an exemption to the required 12-month notice — in fact, it announced that the lodge was closing in 60 days despite not having exemption approval.
"It was 29 days after the VIHA board's decision [on May 28] and seven days after VIHA's announcements on June 20 to staff, residents and families that the chief medical health officer received VIHA's first request for an exemption [on June 27]," the report said.
VIHA did not even give its chief medical health officer "adequate information" to consider the risk to residents', the report said.
However, the ombudsperson also recommends that, while [chief medical health officer] Richard Stanwick had the authority to grant VIHA's exemption request, he could and and should have delegated that to an independent expert "to enhance confidence in the independence and impartiality of the decision making process."
VIHA also failed to give staff at the lodge a reasonable chance to apply for new jobs at the nearby Sunridge Place facility, where many of the seniors were transferred, Carter wrote.
"It was unreasonable for VIHA to delay notifying Cowichan Lodge staff for more than three weeks," the report said.
News of the closure in June 2008 erupted into a full-blown public relations war for VIHA. There were protests, a 12,000-name petition, 46 complaints to the Ombudsperson's Office, and a board meeting in Qualicum Beach that was shut down by the board chair because of the rancor and heckling.
By August, VIHA had offered to extend the closure until summer 2009. The former lodge site is now being redeveloped as a psychiatric facility.
In a letter dated Jan. 12 this year to the ombudsperson, which is included in her 30-page report, VIHA chief executive officer Howard Waldner wrote: "VIHA acknowledges and sincerely regrets that the processes surrounding the closure of Cowichan Lodge in 2008/2009 were not managed in an ideal manner."
VIHA says it has since made significant changes to its policies and procedures regarding closures. It will implement five of the six recommendations. VIHA said it does not have the statutory authority to accept one of them.
The ombudsperson recommended an alternate decision maker, not directly affiliated with VIHA, to consider exemptions to the 12-month notice requirement for facility closures.
The health ministry indicated Wednesday such decisions could be delegated to, for example, the Director of Licensing.
The NDP wants to make VIHA's provincially-appointed board of directors at least one-third elected from communities.
rfshaw@timescolonist.com
ceharnett@timescolonist.com
We thought you might also be interested in..