Victoria council takes U-turn over trash
Feb 17 2012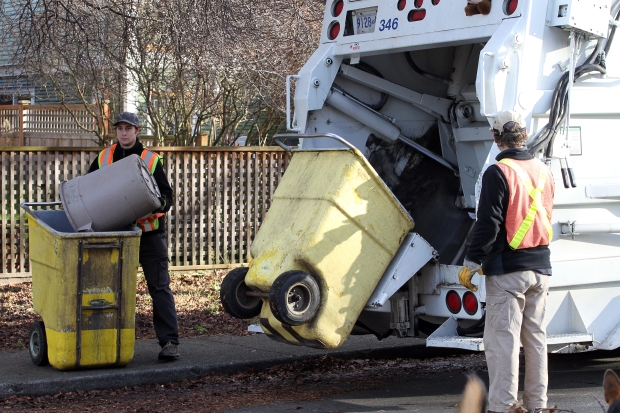 City of Victoria workers Mark Gudowski, left, and Dave Parker pick up trash along a city street.
Photograph by:
Bruce Stotesbury , timescolonist.com December 2011
Victorians will not have to haul their trash to the curb after all.
Bowing to pressure from the Canadian Union of Public Employees and concerns of residents, Victoria councillors have backed off a change to garbage collection in the new year that would have forced residents to haul their trash to the curb and haul the empty totes back. Instead, city workers will collect trash (and in the organics in the new year) every two weeks, but leave the empty totes at the curb.
The compromise was clearly a win for CUPE 50, which lobbied hard against proposed changes that, it said, would both compromise service and mean a loss of union positions.
"We're happy with any change," CUPE 50 president John Burrows said. "Obviously, ultimately, we were trying to maintain a backyard service. We succeeded in convincing council that a majority of respondents to their questionaire still wanted backyard service."
The change also represents a deviation from what most indicated they wanted when the city surveyed residents in December. That was difficult for some councillors, who noted that the previous council had promised to go with the option most favoured in the survey.
Faced with aging trucks and a desire to reduce costs and to start collecting kitchen scraps for composting, the city mailed surveys to 11,400 households in December. Residents were offered a choice of three options:
A) alternating weekly pickup (garbage one week and organics the next) with backyard pickup, but bins left at the curb (estimated to cost $229 a year per household);
B) collection every two weeks of both organics and garbage with pickup from the backyard, but with the tote left at the curb (estimated to cost $183 a year per household);
C) collection every two weeks of both organics and garbage with both pickup and tote return at the curb (estimated to cost $161 a year per household).
Some 4,316 residents —38 per cent — returned the survey and Option (C) was the most preferred, with 48 per cent in favour. Option (B) was the choice of 35 per cent and Option (A) received 13 per cent support. Three per cent of respondents did not support any of the options.
Burrows had said Option C did not get support of more than 50 per cent and more people voted against it than in favour.
But some councillors had difficulty in not implementing the most favoured option. "One thing that I've learned from this is that in the future, with the exception of referenda and actual elections, that we never do this again," said Coun. Pam Madoff. "Clearly, when you look at Option C, there was a majority. You may say it was not overwhelming, but if it was an election and you won by two per cent I think you'd say, 'I won.' "
Coun. Chris Coleman said the previous council was clear it would go with the option that polled highest.
Newly elected Coun. Shellie Gudgeon said she understood the reluctance of veteran councillors to change the earlier decision, but the results of the survey were very close. "I think we were elected because we have the ability to see shades of grey. This isn't a black and white decision," she said.
Mayor Dean Fortin said the public shouldn't perceive the council as bowing to union pressure. "Our citizens are the most important voices that we hear," he said.
bcleverley@timescolonist.com
We thought you might also be interested in..