Police not proceeding on Wharfside investigation
Feb 17 2012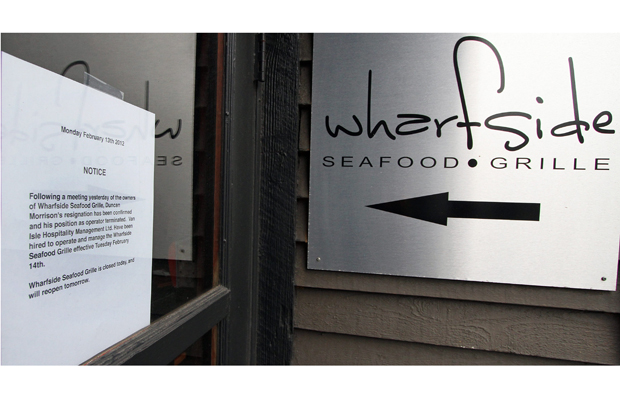 VICTORIA, B.C.: February 13, 2012 - A notice is stuck on the front windows, as disgruntled former employees protest in front of Wharfside Seafood Grille in VICTORIA, B.C. February 13, 2012.
Photograph by:
Adrian Lam , Times Colonist
The Victoria Police Department is not proceeding with a fraud investigation following a complaint by a former employee of the Wharfside Seafood Grille.
Beric Ofori, 26, filed a fraud complaint last week, charging that the downtown restaurant had not paid him or other staff for work.
Ofori, who organized a demonstration on Monday in front of the restaurant, said he is disappointed police are not pursuing the matter. He believes he is owed more than $3,000 from his time at the restaurant last year. He received a cheque through the employment standards branch for $1,600 to settle his complaint but said he has not cashed it.
Victoria Police Const. Mike Russell confirmed that the investigation was not proceeding, saying: "The file does not meet the threshold for criminal charges. There is no way to prove intent on that."
We thought you might also be interested in..