Navy builds reef in Esquimalt Harbour to attract fish to harbour
Feb 17 2012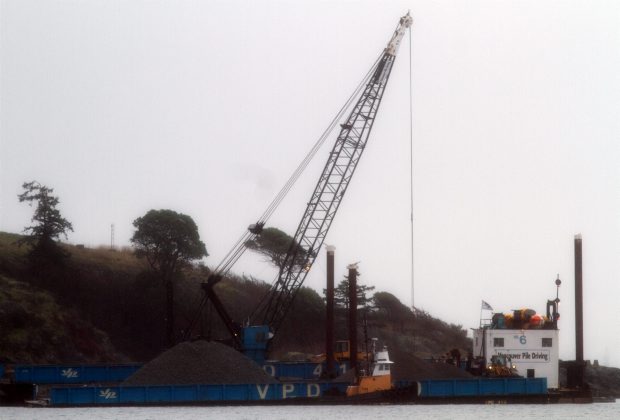 Rocks are ready to be dropped into the water at Esquimalt Harbour, creating a reef the size of a hockey rink.
Photograph by:
Darren Stone , timescolonist.com
Esquimalt Harbour has long been home to industry and naval activities.
Now the Department of National Defence is building a reef in the water off CFB Esquimalt to enhance the fish habitat and lessen the impact of naval activities.
It is the first time DND has worked with Fisheries and Oceans Canada to create a reef on the West Coast.
The harbour is not a fishing hot spot like the waters off Sooke, but schools of salmon have been seen there, said Mike Waters, a civilian environment officer at HMC Dockyard.
It is hoped that more fish will come, now that the finishing touches have been put on a rocky reef the size of a hockey rink, with a float top and slopes on each side.
"The target is we'll have about 11,000 square metres of habitat," Waters said Thursday.
The project has been in the works for years and is not the result of any order by DFO, Waters said.
It is a voluntary and proactive effort by the navy to preserve marine life, he said. "The areas we chose are less productive than other areas," said Waters.
The reef was built in layers. "The bottom layer is gravel to stop the reef from sinking into the bottom. The second layer is put at the toes of the reef to protect it from scouring and the last layer that's put on top is the larger rock," Waters said.
Care was taken to put it where it would not impact other marine life.
The reef will offer protection for young fish that need a place to hide from prey.
Kelp and algae will also grow there.
The reef will not be visible from the surface but will be noted on hydrographic maps of Esquimalt harbour.
"The navy works in a marine environment and one of our core values is environmental stewardship," Waters said.
We thought you might also be interested in..
Notice
: Undefined index: event in
/home/viccity/public_html/v2/content.php
on line
67