Golf-course restaurant enjoys boom in popularity ahead of final sitting
Feb 17 2012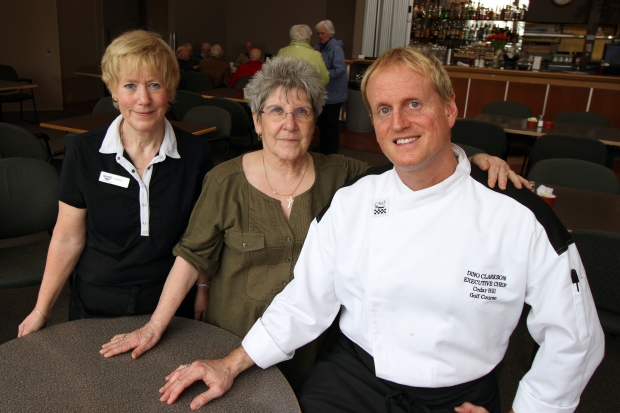 The restaurant's chef, Dino Clarkson, with hostesses Cheryl Scutt, left, and Terrie Capello.
Photograph by:
Bruce Stotesbury , timescolonist.com Feb. 16, 2012
It's almost the last day of business for the struggling Cedar Hill golf course restaurant, but the parking lot is packed and there's not an empty table in the house.
Dorothy and Gordon Sluggett drove from Brentwood Bay to have a final meal at the restaurant they call their "special place" before it closes its doors tonight.
"I'm sick about it," Dorothy said. "We don't golf here, but we come quite regularly for lunch with good friends and celebrate birthdays."
But several others filling the parking lot - with its ample and free spots, as most pointed out - were coming to the pub-style restaurant with a sweeping view of the golf course for the first time.
They had read or heard about it closing and wanted a chance to see what the fuss was all about before it was too late.
The restaurant is part of the course, which is owned and run by Saanich.
But it has been losing money for the past four years - a $500,000 deficit was projected for 2012 - so the municipality decided to close the restaurant and instead offer a light refreshment-style service in the lower portion of the club house.
"We've never heard about it, but our friends recommended it and it is beautiful," said Fatwa Kayal, who lives in Gordon Head.
"I knew the rec centre, but not this restaurant."
Many people who do not want the restaurant to close say this lack of knowledge, advertising and publicity is a key part of the deficit problem.
"I don't think the advertising was there to put it in people's minds," said Frances Drolet.
"You have the combination of beautiful scenery, the chance to have a lovely lunch, a walk, watch or play some golf, yet people don't know about it."
Indeed, the only sign even indicating there is a restaurant at the Cedar Hill course at the end of Derby Road in Saanich is a handwritten one, taped to the large wooden Cedar Hill Park municipal golf course sign.
It reads: "Also restaurant facilities, banquet facilities, community meeting place, open to the public."
It is the work of fans of the restaurant lobbying to keep it open, although even the chef says there is little hope of that.
Dino Clarkson has been at the restaurant since it opened 15 years ago.
Like the wait staff, he knows the regulars by name. But the recent popularity of the spot - it is easily twice as busy as it has ever been since publicity about the deficit and impending closure, he said - cannot make up for years of slow sales.
"We might not be in this spot if it was full all the time like it is now, but it is what it is," said Clarkson.
"Upper management has done their very best to do what they can to keep it running, getting consultants in and trying to make it work."
He also thinks lack of signage and publicity was part of the problem.
"It's just quite simply that we're out of sight, out of mind for many people," Clarkson said.
Saanich bylaws do not allow "commercial-type signage" on municipal right of ways, said Colin Doyle, Saanich's director of engineering.
"We expect that municipal facilities will adhere to the bylaws as private facilities do," Doyle said.
Like most other employees at the restaurant, Clarkson will be transferred to another job in the municipality, likely in landscaping, in which he is trained.
The golf course, too, is facing financial difficulties.
That problem will be discussed at a Saanich parks and recreation meeting Tuesday.
Some have dubbed the restaurant an "unofficial Silver Threads," a gathering spot for golfers - many of them retirees on fixed incomes - where they can nurse a cup of coffee.
"I go for coffee here every day, waiting for my tee time," said James Thomson.
But the 91-year-old says he rarely eats at the restaurant, preferring to head home.
kwestad@timescolonist.com
We thought you might also be interested in..