Chief wants to know: Where has riot gear gone?
Feb 18 2012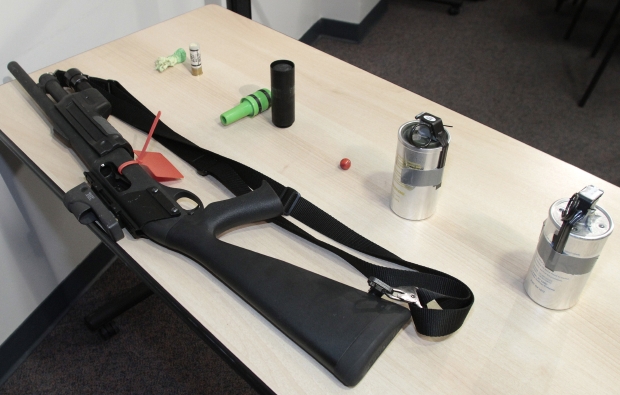 The missing police inventory includes a Remington shotgun, tear gas canisters, pepper balls, non-lethal bullets and three tactical vests, similar to the items shown.
Photograph by:
Lyle Stafford , timescolonist.com Feb. 17, 2012
Victoria police say they've lost a shotgun and other riot gear.
Crowd-management weapons, including the Remington shotgun, tear gas canisters, pepper balls, non-lethal bullets and three tactical vests, were determined to be missing during an inventory on Wednesday. After an extensive search failed to turn up the items, the issue was brought to the police chief on Thursday, who made the information public Friday.
Chief Jamie Graham said the department is not sure if the items were stolen and wouldn't say how long the equipment has been missing.
"It is this department's highest priority to recover these items immediately," Graham said at a press conference. "Our second priority is to find out how these items went missing and how to prevent it from happening again."
Graham said his biggest concern is the items getting into the hands of young people, who could be injured. Second to that is the concern that it could be in the hands of criminals.
"One police shotgun in unauthorized hands is too many," Graham said.
"Our dilemma is that we own these, I own these, and for me to know that they're not where they're supposed to be causes me some anguish."
Police use the shotgun to fire non-lethal rounds but it can be used to fire conventional 12-gauge shells, Graham said.
He said the missing items might have been stored in a police cruiser. There are no obvious signs of a break-in, but it is possible a door might have been left unlocked, he said.
"Whether the items were stolen, improperly disposed of or inadvertently misplaced, it is unacceptable not to know their current disposition. For that, I take full responsibility," Graham said.
On Twitter, Victoria police apologized for the "unacceptable situation" and attached a media release.
The department has started two investigations. A team of detectives will look into how the riot gear went missing and another will be led by the professional standards unit to look at whether policies need to change.
The Office of the Police Complaint Commissioner is overseeing the investigation into which officers were responsible for taking care of the equipment.
Officers have to sign out the gear so the department should know who last had the equipment legitimately in their possession.
All of the missing equipment is easily identifiable as either law enforcement or paramilitary, Graham said.
Anyone who finds the gear is urged not to handle it and instead call 911. Anyone with information who wishes to remain anonymous can call CrimeStoppers at 1-800-222-TIPS (8477).
"I'm not happy about what happened one bit, but we're going to find out how it happened," Graham said. kderosa@timescolonist.com
We thought you might also be interested in..