Repairs to City of Victoria buildings would run into millions
Feb 18 2012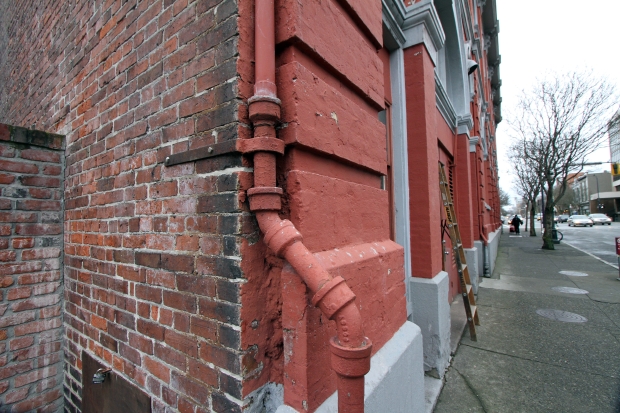 The brick work on Victoria city hall has been painted several times, trapping moisture inside the bricks and causing deterioration. The city will have to spend $6.5 million to strip off the paint and repair the brick.
Photograph by:
Bruce Stotesbury , timescolonist.com (Feb. 17, 2012)
Victoria's 17-year-old police headquarters has developed leaks that will cost about $1.5 million to fix properly.
"It's somewhat different from a leaky condo because a leaky condo is infiltration of moisture that causes mold within a wall," said Dwayne Kalynchuk, city director of engineering.
"This is actually moisture just going through and the [exterior] membrane itself is probably the issue. There was a membrane placed in that met the code of the day, but today's code has a much more stringent and better quality membrane."
Water is getting into the building, at 850 Caledonia Ave., in three areas, Kalynchuk said. There is "moisture intrusion" at a ramp into a parkade where the membrane ties into the wall. Water is getting into change rooms from underneath exterior planters and into office space from second-storey decks.
"We do repair cracks and the drips as we see them," Kalynchuk said. The $1.5-million estimate is based on removing the membrane, repairing concrete and then replacing the membrane.
"It's not something that we're neglecting. We are repairing it," Kalynchuk said. "But it just shows there's an issue that, at some point, should be tended to. As a leak develops, we'll go and seal that so it's kind of a spot repair. Really, the best way of handling it is to replace and beef up the membrane."
There are no health issues related to the leaks, Kalynchuk said.
Borrowing to pay for repairs would mean an annual tax lift of 0.14 per cent.
At City Hall, years of painting over the exterior heritage brick walls mean repairs costing an estimated $6.5 million are required.
"What that does is it traps moisture in the bricks," Kalynchuk said.
The estimated cost of stripping the paint and masonry restoration is about $4 million. About $1.5 million would be needed for window rehabilitation.
Another $1 million is estimated for restoration of architectural detail.
Borrowing the $6.5 million would translate into a tax lift of 0.62 per cent.
The repairs to the two buildings are included in a list of $143 million in unfunded capital projects that, at some point, the city council will have to address. bcleverley@timescolonist.com
We thought you might also be interested in..