Surge in calls to mop up toxic spills
Feb 18 2012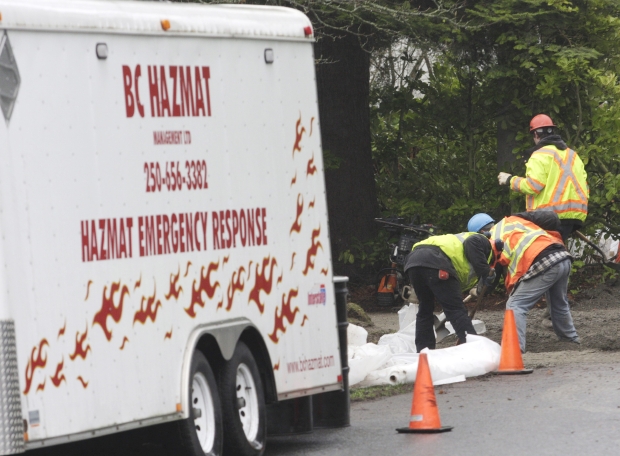 B.C. Hazmat crew working on Saanich stormwater system after spill of 300 litres of home heating oil at Adelaide Avenue and Cowper Street
Photograph by:
Lyle Stafford , timescolonist.com (Feb. 16, 2012)
Oil and hazardous chemicals are spilling into the Greater Victoria environment with alarming regularity, according to a major mop-up company.
"I would much rather not do emergency response. I would much rather teach people how not to spill," said David Rogers, founder of B.C. Hazmat Management, one of the privatesector spill responders in Greater Victoria.
"This last year we have had one major spill a month and five years ago we had one or two a year," Rogers said.
Some of the increase is probably due to increasing awareness, he said.
"Ten years ago, an oil spill was something that you just washed away, and now the public is becoming more and more environmentally aware," he said.
That means many companies are taking spill-prevention education seriously, and municipalities such as Saanich are giving specialized staff training.
Provincewide, the number of reported spills has remained about the same for the past four years, said Graham Knox, manager of the Environment Ministry's environmental emergency program.
In the fiscal year 20082009 there were 3,562 spills, in 2009-2010 the figure fell slightly to 3,330, in 20102011 there were 3,491 and in the first nine months of this fiscal year there have been 2,547.
"That is what people have reported, but we don't know what people don't report," Knox said.
Between 25 and 30 per cent of provincially reported spills are from Vancouver Island, 45 to 50 per cent from the Lower Mainland and 15 to 20 per cent from Peace River.
Recent high-profile spills have included 1,000 litres of home heating oil which leaked from a Kenneth Street home into Colquitz Creek in November, a tanker crash on the Malahat that sent fuel streaming into the Goldstream River in April and a spill of diesel oil into Patricia Bay in January.
Pockets of residue remain on the Colquitz banks, but the water is testing clean.
The Goldstream has lost the sheen, but the long-term effects on fish and wildlife are unknown.
This week, crews have been digging up Adelaide Avenue, where there was an "misdelivery" of 300 litres of home heating oil.
"Furnace oil is so light, it takes the easiest route and it travels quickly," Rogers said. "The oil went into the storm drain around the house and straight into the street and ground water."
Spills of home heating oil are increasingly common, Rogers and Knox agreed.
"What we are seeing in Greater Victoria is furnace oil spills from tanks letting go," Rogers said.
Many fuel tanks in older homes were constructed by two companies that went out of business in the mid-1980s, but the tanks are still in use and, as they rot from the inside out, homeowners do not know when the tank is about to fail, Rogers said.
"If it's more than 15 years old, replace it," he advised.
It's a matter of dollars as well as the environment.
The bill for repairing environmental damage usually starts at $50,000, and most insurance companies do not cover that sort of damage, but a new tank is a relative bargain at $2,000, Rogers said.
The Kenneth Street homeowner, whose oil tank connection broke, is probably looking at a bill of about $200,000, Knox estimated.
Early reporting is key to cleaning up a mess, Rogers said.
"We can recover 100 per cent from water with pads and booms and skimmers, but when it hits the shoreline, we've lost it," he said.
Equipment and technology are improving all the time, Rogers said.
But sometimes help has to come from more powerful forces.
"Nature is a wonderful healer," Rogers said.
jlavoie@timescolonist.com
We thought you might also be interested in..