Charity boss draws attention to homelessness by living in van
Feb 19 2012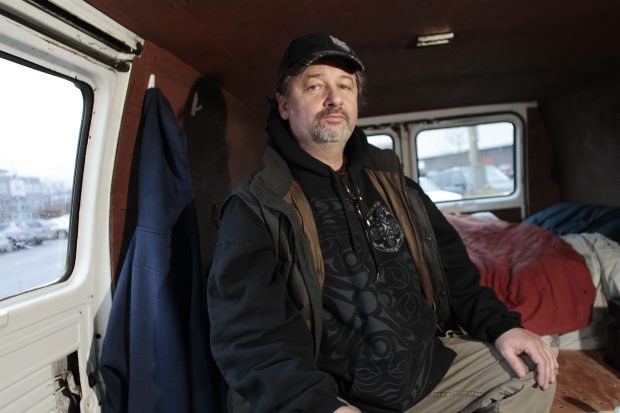 Richard Leblanc makes himself comfortable in the van that has become his temporary home.
Photograph by:
Lyle Stafford , timescolonist.com
Richard Leblanc looks a little rough around the edges as he sits in a downtown café warming his hands around a small pot of tea.
His hair is longer than usual and his beard is marginally ragged.
It is likely that, in a couple of weeks, he will look a whole lot worse, admitted the Creating Homefulness Society executive director, who has left his comfortable digs at Woodwynn Farm to live on Victoria's streets in a tin can of a van.
"Personal hygiene is one of the biggest problems. You feel you have lost your personal space when you're brushing your teeth in a public washroom," he said.
"Where do you go to the bathroom at 2.30 in the morning? Your world really shrinks."
Leblanc is hoping his time on the street will draw attention to problems faced by homeless people, but he is also using it as a tool to raise funds to help kickstart the re-opening of Woodwynn Farm.
The cash-strapped Woodwynn board temporarily suspended operations at the farm last June after a Central Saanich council decision to send the application for a therapeutic community to the Agricultural Land Commission before it is debated by the council,
The Creating Homefulness Society wants to house 96 participants and 24 staff on the 78-hectare property.
Current zoning allows only four resident participants in a program designed to help people who are homeless or addicted make a fresh start.
Leblanc does not know how long he will be living in the van as he has tied his time on the street to meeting three objectives.
"We want 2,012 letters of support to Central Saanich mayor and council, 2,012 donors to our 99 cents a day campaign and we want to find Todd," Leblanc said.
Todd, whose surname is not being disclosed, lived at Woodwynn for about a year, but then headed back to the streets and has disappeared.
"The lure of drugs and addiction overcame him," said Leblanc, who knows Todd prefers to sleep outside and is probably somewhere outside the downtown core.
Leblanc was thinking of spending time living on the streets when he met a man who has been living in his van on the Saanich Peninsula with his dog for about two years.
That's when he came up with the idea of trading places.
The van-owner is now living on the farm.
"He's been with us for a couple of weeks and he's looking a lot better. There was a blue-grey colour to his skin," Leblanc said.
After spending his first night in the van trying to keep warm as the temperature dipped below zero, Leblanc is beginning to understand the blue-grey colouring.
"It's just a metal box and I heated it as hot as I could before bedding down, but by 2 a.m, the temperature dropped like a rock," he said.
The choice is then to either use precious gas
to warm it up or tough it out.
While he is on the street, Leblanc is living on a welfare budget of $320 a month.
If, as the month progresses, he has to use the food bank or eat meals at Our Place, Leblanc plans to pay them back once he is off the street.
"I don't want to be taking away resources," he said.
Leblanc is also struggling with where to park the van.
Most good spots ban overnight camping and others are either too noisy or dangerous, he said.
During his van time, Leblanc is blogging and making videos.
For more information, or to donate, go to the website woodwynnfarms.org.
jlavoie@timescolonist.com
We thought you might also be interested in..