HMCS Vancouver returns home
Feb 20 2012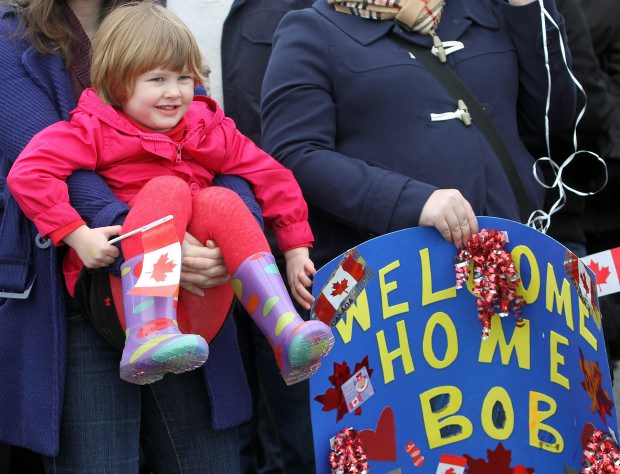 Danica Freistadt, 4, waits for her dad, as the HMCS Vancouver returns to port.
Photograph by:
Adrian Lam , timescolonist.com (Feb. 2012)
Send us your photos to web@timescolonist.com and if we get enough we'll post a gallery.
HMCS Vancouver was a "go-to ship" that saved civilian lives, Canada's top military official said Sunday as the ship returned from seven months of active NATO operations.
Families simultaneously laughing and crying at the sight of loved ones was emotional, said Walt Natynczyk, Canada's Chief of Defence Staff, who disembarked from the ship with sailors Sunday at CFB Esquimalt.
"It's just fantastic," Natynczyk said, in an interview. "When this ship left on the 10th of July, at that point in time we didn't know what would happen with Libya, how long it would go."
HMCS Vancouver deployed from Esquimalt July 10 to replace HMCS Charlottetown as the maritime component of Operation MOBILE, the Canadian contribution a NATO-led international response to the crisis in Libya.
"The fact is, this ship had a direct impact on saving civilians and working alongside our NATO partners ensuring that Canada's credibility with our NATO allies and all the other coalition partners was maintained," Natynczyk said.
During the mission that helped topple Libyan dictator Moammar Gadhafi, the Esquimalt-based frigate stood in the Mediterranean Sea's Gulf of Sidra, off Misrata, Libya.
From August to October, the Vancouver patrolled Libyan territorial waters, taking part in the NATO-led Unified Protector mission. It helped enforce the arms embargo on Libya and the no-fly zone in Libyan airspace authorized by a United Nations Security Council resolution.
In addition to helping ensure that no arms or ammunition got to Libya and that humanitarian aid was safely sent to those who needed it, "the Vancouver provided a measure of reassurance to the civilian population and a deterrent to Gadhafi forces," the navy said in a statement Sunday.
The uprising against Gadhafi began in February 2011. A civil war erupted, and a NATO-led coalition intervened to protect civilians. Gadhafi's assets were frozen and international arrest warrants were issued against him and key supporters for crimes against humanity.
Gadhafi was reportedly captured alive in his birthplace of Sirte by members of the Libyan National Liberation Army last October, but he died before making it to the hospital.
On Nov. 15, HMCS Vancouver joined Operation Active Endeavour, NATO's maritime counter-terrorism effort in the Mediterranean.
"The Vancouver was a go-to ship when there were problems. Because of the professionalism of this crew, NATO came back on this ship and gave us some tough missions," Natynczyk said.
Commanding Officer Bradley Peats described the mission as "intense" at times. It required the crew to remain vigilant and was a great success, he said.
Natynczyk thanked Vancouver's captain and crew for their service, and spoke of the sacrifices their families made to support them.
The men and women of HMCS Vancouver have brought great credit to Canada and to the Canadian Forces, Natynczyk said.
The sacrifice could be seen on the faces of all the families — members of whom carried roses, balloons and banners — that dotted the shores of CFB Esquimalt Sunday.
As the ship pulled in, children took up the front rows, dressed in their Sunday best. The anticipation on their faces was evident. Some family members were emotionally overwhelmed by the homecoming while others remained stoic.
Kelsi Woodward, 30, took photographs of her brother Dallan Woodward, 32, as he stood on the ship, taking photographs of her.
Saifon Hozempa was the first spouse to board the ship to give her husband, Petty Officer Derrick Hozempa, the traditional "first kiss."
Hayley Mooney, 32, and her 22-month-old son Caleb and two-month-old Aliana, born in December, were excited about being reunited with Lt.-Navy Lance Mooney.
Lance Mooney had come home for Aliana's birth, but six days later he headed back to duty on the Vancouver. Arriving home Sunday was a joyous occasion for the entire family.
Before the ship sailed into the harbour, Caleb kept repeating the words "big ship." As his father held him in his arms for the first time in a long time Sunday, Caleb pointed to the strapping man in uniform, saying: "Daddy, Daddy, Daddy."
Colleen Yerama, with children Abigail, 4, and Jonathan, 22 months, said her husband Chief Petty Officer, Second Class Kelly Yerama, is coming home to a cake that lists all of the celebrations he missed while he was gone.
It wishes a happy Thanksgiving, Merry Christmas, happy New Year, happy Valentine's Day and even happy birthday to the now 44-year-old.
ceharnett@timescolonist.com
We thought you might also be interested in..