Redesign homes to prepare for rising sea levels, scientists say
Feb 22 2012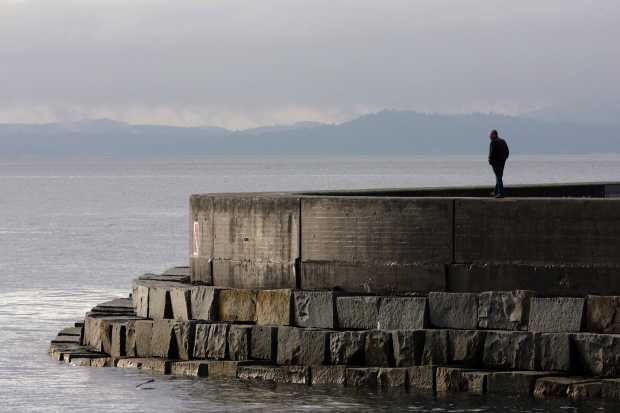 A man walks at Ogden Point during a recent king tide, a phenomenon that produces high water levels. Scientists at a weekend conference said communities should introduce measures that are able to cope with a rise in sea levels.
Photograph by:
Lyle Stafford , timescolonist.com
Rising sea levels could change the look and function of vulnerable coastal communities, a University of B.C. researcher says.
"If community members decide these are special places . . . they could simply stay put and change the design of their homes and change the urban design of their communities so that, if and when a flood does arrive, the community can still function and they're OK, and damages are minimal," said David Flanders, a University of B.C. scientist with the Collaborative for Advanced Landscape Planning. The group specializes in landscape visualization, public consultation in land-use planning and environmental perception.
He has just completed research focusing on the low-lying suburban communities of Richmond and Delta and presented his findings last weekend in Vancouver to the annual meeting of the American Association for the Advancement of Science.
But his findings can offer insights to those living in other coastal communities who would be threatened by a rise in sea levels over the next century.
It is predicted that the combination of a sea-level rise and the drop of land near the mouth of the Fraser River, an area already protected by dikes, could raise the sea water by a net 1.2 metres over the next 100 years.
In Victoria, the sea will rise about 90 centimetres, said Neil Peters, head of B.C. Flood Safety Section for the Ministry of Forests. In Tofino and Ucluelet, the rise may be less because the land there is rising gradually.
"It may affect little pockets on development here and there, totally depending on the topography of the community," Peters said.
Areas already prone to flooding, such as Courtenay, would see the most damage.
Planners can look at raising existing dikes, but that still leaves communities vulnerable to a breach, Flanders said.
"Another way would be to . . . do things in the foreshore or the inter-tidal zone — create barrier islands that take the wind and waves out of a storm surge," Flanders said.
Another option would be to stop developing flood-prone areas "because they're difficult and costly to protect," Flanders said.
"You could, over a long period of time, move people out of the most vulnerable areas and into safer areas."
If the water is rising higher, communities could raise their building sites higher by using fill, he said.
"In some communities around the world they use stilts — it's pretty simplistic and any homeowner can raise his or her home," Flanders said.
Homes could be designed with the main floor being a shop or garage that can sustain flood damage while the second floor is the living space.
Delta already has a novel policy that allows for float homes to be built on land. They can float free of their foundations during floods.
"There's a way forward and our process demonstrates this way forward of identifying these issues, building some scenarios with some options and understanding the trade-offs between these different options that you have," Flanders said.
Coastal communities will need to continually review their bylaws that stipulate the elevations at which houses can be built above the ocean, said Peters.
As to how much the sea will rise and how quickly, Peters said: "There's still a lot of uncertainty . . . and there's quite a range of predictions out there."
smcculloch@timescolonist.com
We thought you might also be interested in..