Public given its say on Jordan River park boundary
Feb 22 2012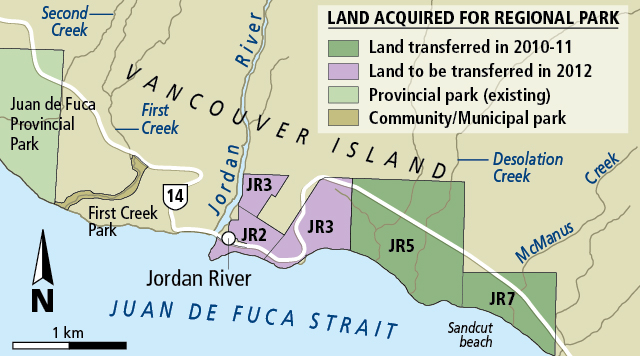 .
Photograph by:
. , timescolonist.com
There's the surfing beach at Jordan River, waterfall on Sandcut Beach and spectacular rocky outcrops with ocean views — all obvious jewels of the new Jordan River Regional Park Reserve.
But how do previously logged upland areas, contaminated building sites or townsites fit into a park?
The Capital Regional District wants to hear opinions about the park boundary at two public meetings to be held tonight at Sooke Community Hall, 2037 Shields Rd., from 6 p.m. to 9 p.m. and Thursday from
6 p.m. to 9 p.m. at Victoria Ambrosia Conference Centre, 638 Fisgard St.
The CRD bought 187 hectares of land around Jordan River from Western Forest Products in 2010 after years of controversy over the high-profile recreational land that had formerly part of a tree farm licence.
Parcels stretching from Sooke Potholes to Juan de Fuca Marine Trail were put on the open market after the province allowed WFP to remove 28,000 hectares of private land from tree farm licences in 2007.
"The CRD was required to purchase the lands based on legally defined parcels, even though some of it did not have park value," said regional parks committee chairwoman Susan Brice.
"We want to hear from the public about what lands should be retained for the park and what could be deemed surplus."
Surplus land is likely to be sold to defray purchase costs.
The park reserve lands are among 2,350 hectares of WFP land, bought by the CRD for parkland and watershed protection for $18.8 million, to be paid over three years.
Most of the funding is through the CRD's parks acquisition fund and the province kicked in $2 million. The Land Conservancy was supposed to pick up 35 per cent of the remainder, but, last year, fundraising fell flat.
Several major parcels in Jordan River will be transferred this year and the only condition is that environmental contamination should be cleaned up by WFP, said Jeff Ward, CRD Parks manager of planning and resource development.
"We will only accept these parcels if we get a certificate of compliance from the province," Ward said.
A report from the public meetings will go to the regional parks committee and recommendations are likely to go to the board in late spring or early summer.
Planning decisions on trails or dealing with erosion on the Jordan River Point are likely to come next year, Ward said.
Environmentalist Vicky Husband would like the CRD to keep all the parcels, at least for now.
"We need all the parkland we can get," she said.
jlavoie@timescolonist.com
We thought you might also be interested in..
Notice
: Undefined index: event in
/home/viccity/public_html/v2/content.php
on line
67