Thieves remove totem marking First Nation grave
Feb 23 2012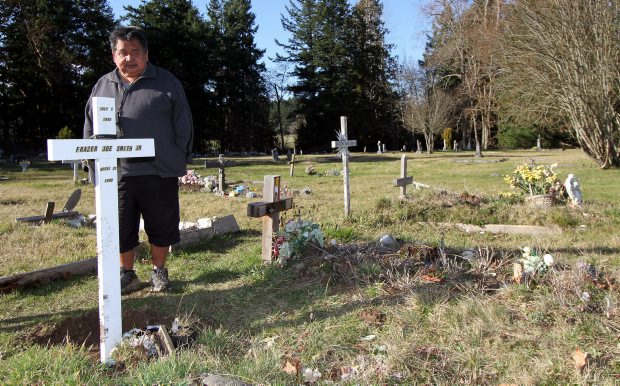 Frazer Smith Sr. at his son's grave, from where the totem was stolen this week.
Photograph by:
Bruce Stotesbury , timescolonist.com
A hole in the muddy ground shows where a specially carved totem pole stood at the head of Frazer Joe Smith Jr.'s grave in the Tsartlip First Nation cemetery.
But sometime on Monday night or Tuesday morning, thieves drove onto the small grass patch beside the cemetery on West Saanich Road, yanked the
1.8-metre totem out of the ground, together with the concrete block to which it was bolted, and made off with it.
"It has hurt our whole family. It really bothers everyone," said Frazer Smith Sr., as he looked at his son's grave Wednesday. "Why would people do this? I know it happens in other cemeteries, but I didn't think it would happen in this cemetery. It's the first time."
Smith Jr. died in April 1999, aged 30, in a vehicle accident on the Malahat.
The Coast Salish-style totem, with an eagle on top and kneeling bone-game player on the bottom, was carved in his memory several years later by his cousin, Dave Darcy Abbott.
"There's nothing else like it. Only one was carved," said Smith Sr.
Initially the totem was used as a trophy in a traditional bone-game tournament, organized by Smith Jr.'s sister Carrie-Ann. About four months ago, it was placed on the grave.
The theft was noticed by Carrie-Ann Tuesday.
"She's been crying for two days," said her husband, Patrick Aleck.
The theft is being investigated by Sidney/
North Saanich RCMP, who have looked at the wide tire tracks on the grass and footprints beside the grave.
"It's still under investigation. We're not making any assumptions," said RCMP Cpl. Chris Swain.
One of the puzzling elements about the theft is that the totem and concrete base weighed between 100 and 150 pounds, which would make it difficult for one person to handle, Smith Sr. said. It also makes it less likely that it was a spur-of-the-minute decision to steal it, but publicity will now make it difficult to sell, he said.
"I hope someone will be good enough to bring it back," Smith Sr. said.
jlavoie@timescolonist.com
We thought you might also be interested in..