PCC board member Geoff Young quits over land sales
Feb 23 2012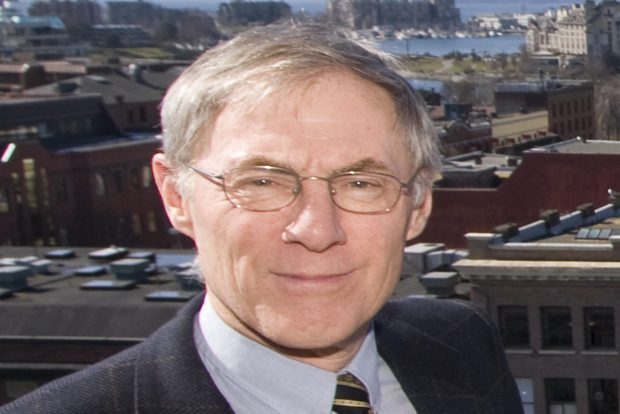 Coun. Geoff Young is generally opposed to selling land to raise cash for the province.
Photograph by:
. , timescolonist.com
Veteran Victoria Coun. Geoff Young has resigned from the Provincial Capital Commission board, the day after the province announced in its new budget that some of the agency's property would go on the market.
"I wrote out my resignation this morning and I'm going to participate in that activity," Young said Wednesday. "I believe that being on that board does more harm to the interests of the city than good."
News that PCC land will be sold was the final straw for Young. He previously served on the Crown agency's board, returning as a Victoria appointee after three years following November's municipal elections, when he topped the polls. Young was on council from 1983 to 1999 and returned in 2005.
B.C. is looking at selling up to 100 "surplus" properties and buildings to raise $706 million to help balance the budget. About 75 per cent are in the capital region and Metro Vancouver. The government refuses to release its list. The PCC referred questions to the province.
Opposition NDP leader Adrian Dix called on the government to publicly disclose what it is planning to sell before it is sold.
"They are selling out the assets of the province, [but] they don't want to tell us how or to whom. Of course that's all going to be kept secret."
He said the asset sale is a ploy by the government to balance the books before the 2013 election and claim to be prudent fiscal managers.
"Not many of us would say that the solution to an income problem in a household is selling assets. I mean, you can only do that once."
NDP Victoria-Beacon Hill MLA Carole James said plans to sell PCC property make no sense and would rule out the chance for future public use. "Basically, what the government has said is we are selling off the assets that belong to the public for short-term money coming in and long- term loss . . . Where's the planning for public land? You can't grow public land. Once its gone, it's gone."
This is a bad time to go to market, she said. "It's a buyer's market. It is not a seller's market right now," James said. "You're crazy to sell right now."
James praised Young, saying: "He is standing up for the community."
Ida Chong, Minister of Community Sport and Cultural Development, said every ministry was asked for a list of assets. The government is looking at those not contributing economic value and that do not need to be in government hands. "I'm not at liberty to say which ones they are."
Asked if historic properites such as St. Ann's Academy and the Crystal Garden might be sold, she would not say.
The PCC has sold land in the past, she said.
Revenues from PCC properties fund education and outreach programs about Victoria as B.C.'s capital. The PCC holds
$118.2 million worth of property locally, including downtown heritage buildings, wharves, parking lots, parks, and green spaces bordering the Trans-Canada Highway. Some are under long-term agreements with municipalities.
In Young's view, the value of city participation on the PCC board shrank when the province insisted earlier this year that it would vet all major decisions. It is also transferring management of PCC properties to Shared Services B.C.
It is at a point where sitting on the PCC board means merely corroborating agreement with what the province is doing, Young said. He is generally opposed to selling land to give the money to the province. If there is land better suited to being in private hands, then "the funds from that should be used to maintain the PCC's heritage properties," he said.
The new board has not discussed which lands may be seen as surplus, he said.
Possibly, some PCC land could be better managed in private lands, Young said. "They have a few small properties that are of commercial use," he said. "But most of their land was acquired for the purpose of beautifying the city and the approaches to the city. It's clear that the government is going to be expecting the PCC to sell that land."
Victoria Coun. Ben Isitt, the other city official on the PCC board, said it would be a mistake to sell land. "Privatizing public land and public assets is extremely short sighted. We live in a finite geographical area, on the southern tip of Vancouver Island," Isitt said.
"To acquire land for public purposes in the future is hugely costly," he said. "We keep lands in the public domain to advance values that may not always be addressed adequately by the private sector."
The only downtown PCC property which might be appropriate to sell is the PCC's head office at 613 Pandora Ave., he said. It is assessed at $1.1 million.
cjwilson@timescolonist.com
rfshaw@timescolonist.com
We thought you might also be interested in..
Notice
: Undefined index: event in
/home/viccity/public_html/v2/content.php
on line
67