Reward still on offer in Jewish cemetery vandalism case
Feb 24 2012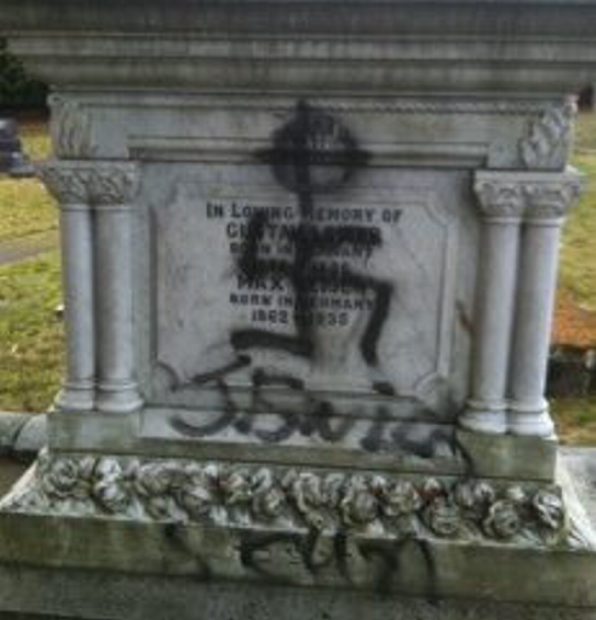 Swastikas were painted on five graves in the Jewish cemetery on Dec. 31.
Photograph by:
Supplied photo , timescolonist.com
Two weeks after a $5,000 reward was posted for information about vandalism at Victoria's Jewish cemetery, police remain hopeful that someone will come forward with the help they need to solve the case.
Five headstones at the historic Emanu-El Jewish Cemetery were desecrated with racist words and swastikas on Dec. 31. Victoria police said they were treating it as a hate crime.
More than 1,000 people showed support for the cemetery by attending a vigil in January at the site on Cedar Hill Road.
The reward was posted by an anonymous donor. Victoria police Det. Lori Beauvais said she is eager to hear from the public.
"I look forward to receiving any tip, and following up every little scrap of information that anyone provides," said Beauvais, who has been the Victoria Police Department's co-ordinator of hate-crime investigations for the past year. "It's still an active and ongoing investigation."
She said the hate-crime position she holds has been in place for some time, and there is a B.C Hate Crime Team, as well.
"It's for any sort of crime that targets an identified cultural group or anyone that identifies themselves under the B.C. Human Rights Code by gender, by race or religion."
Beauvais said it is a certainty that someone knows who painted the disturbing words and images on the headstones.
"It's a serious thing. A lot of people look at it like graffiti or nuisance behaviour, but no."
She said she has spoken to many members of the Jewish community and is well-aware of the deep impact the incidence has had on them.
To qualify for the reward, call 250-995-7444 and be prepared to give your name. The information given must lead to an arrest and conviction.
"We will work with anyone that's willing to come forward, in confidence," Beauvais said.
jwbell@timescolonist.com
We thought you might also be interested in..