Opponents of Jordan River land sales voice fears
Feb 24 2012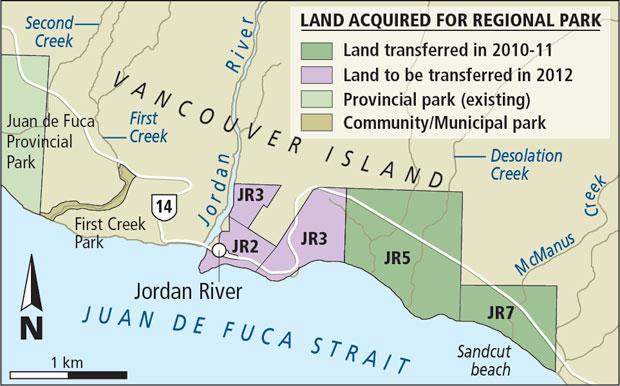 .
Photograph by:
. , timescolonist.com
Several people voiced concerns Thursday night about the sale of West Coast land owned by the Capital Regional District in Jordan River.
Their remarks came at the second meeting this week aimed at gathering public input on what should make up the future Jordan River Regional park and what should be sold off as surplus to recoup costs.
Sid Jorna, president of the Juan de Fuca Trails Society, said the word "surplus" raises red flags. "The community has an interest in all that land," Jorna said.
He pointed to the example of the B.C. government selling off surplus properties as a concerning example of dwindling public land.
"I don't like the word surplus because once it's gone, it's gone," said Oak Bay resident Susan Rowntree.
"This is one of the jewels of the region," said environmentalist Vicky Husband. The surrounding area is so heavily logged, "there isn't going to be anything left except for the parcels we have," she added.
Geoff Young, chairman of the CRD board, said people should think of the merits of selling less-valuable land in exchange for other land that could be turned into a park. He pointed to Brooks Point on South Pender Island, which The Land Conservancy and CRD bought in 2010 with a borrowed $1.65 million, on which it pays interest.
"We know we can't purchase the entire Juan de Fuca area," Young said. "We have to prioritize.
"People have come to us and said, 'Wouldn't that make a good park?' and we say 'It would, but we can't afford it,' " he said.
The Pacheedaht First Nation has expressed interest in a parcel of land near Jordan River, Young said, so there is an opportunity to negotiate compensation from the provincial government in exchange for letting them access the land.
A meeting in Sooke on Wednesday drew about 50 people and Husband said the majority were against selling off surplus land.
The CRD bought
187 hectares for $9.9 million around Jordan River from Western Forest Products in 2010. While parts of the land have pristine surfing spots and ocean-view trails, other areas have been ravaged by logging or contaminated by previous buildings.
The 3.5-kilometre shoreline between Jordan River and Sandcut Beach will be reserved as parkland.
Parcels stretching from Sooke Potholes to Juan de Fuca Marine Trail were put on the market after the province allowed the logging company to remove 28,000 hectares of private land from tree farm licences in 2007. The CRD was required to purchase the land even though not all of it had park value.
Several major parcels in Jordan River will be transferred this year once WFP cleans up the environmental contamination.
The park reserve lands are among 2,350 hectares of WFP land bought by the CRD for parkland and watershed protection for $18.8 million, to be paid over three years.
The public can comment at www.crd.bc.ca/parks until March 9.
Based on the public meetings, a report will be issued to the CRD regional parks committee and board by April. A decision on the park boundary will be made by the summer.
kderosa@timescolonist.com
— with files from Judith Lavoie
We thought you might also be interested in..