Firefighter with wings stars in TV show
Feb 24 2012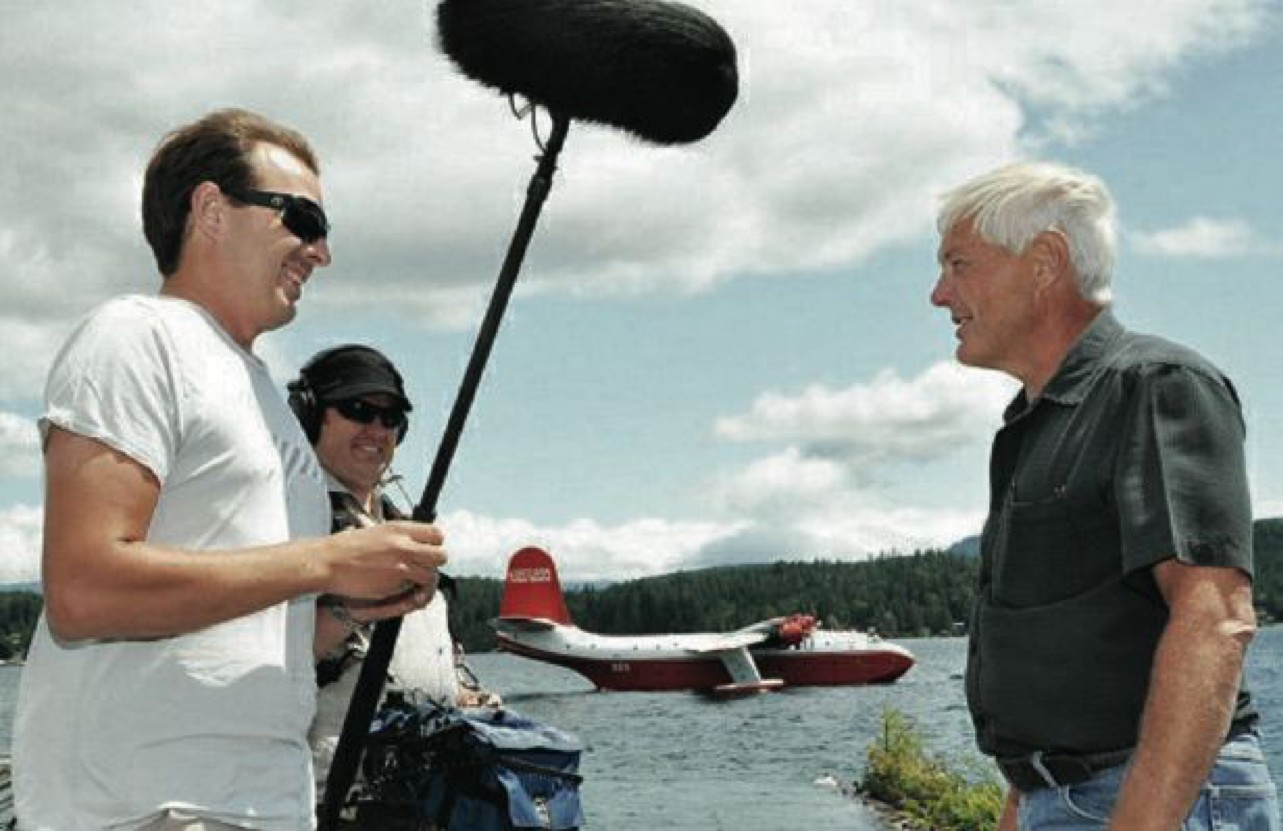 With the mighty Mars behing them, Discovery Channel director Michael Davidson speaks with Coulsonês chief operating officer Jim Messer on the afternoon of July 7, 2011, while the crew is filming at the Coulson's bomber base on Sproat Lake.
Photograph by:
Keri Sculland, Alberni Valley Times , timescolonist.com
The Martin Mars water bomber, based in Port Alberni, is about to make a big splash on the Discovery Channel Canada's series Mighty Planes when it makes its debut Sunday.
The episode features the Mars, the world's largest water bomber. It will be broadcast at 6 p.m.
The show followed the Martin Mars to Mexico last April and May as it battled the country's worst fire season in more than a century.
The Mars can dump up to 27,000 litres of water and fire-suppressing gel in one load, making it a far more effective waterbomber than smaller, refitted jetliners.
"I saw a rough cut of [the show] and I thought they did a very good job," said Wayne Coulson, owner of Coulson Group, which operates the 67-year-old waterbomber. Seeing the episode on TV "should be kind of cool," Coulson added.
The show shows the work of the on-board crew, as well as those who maintain the aircraft. During the time in Mexico, someone was in or working on the aircraft 24 hours a day, said Coulson.
While all the aircraft featured in the series are interesting, the Martin Mars is the only sea plane.
"We're unique because the aircraft is on water which creates its own set of obstacles," he said.
In Mexico, the Mars flew 150 hours in 24 days, Coulson said. He feels the experience of watching the Mars crew and that of its companion "bird dog" aircraft, a S76 Sikorsky helicopter, left an impression with the Discovery filmmakers.
"They may have had a perception that firefighting was a bunch of people who jump in an aircraft and fly 200 feet over treetops," Coulson said.
But it soon became evident that flight crews are far from aerobatic cowboys, he added. "Everybody is very good at what they do," Coulson said.
The episode may also show the professionalism that is typical of all of B.C.'s airborne firefighters, Coulson added.
The Martin Mars is again available to go to Mexico this year if wildfires break out. "It's all driven by weather," Coulson said.
Other aircraft featured in the series include the Orbis, a DC10 redesigned to house a state-of-the-art ophthalmic hospital and the Airbus A380, the world's first double-deck passenger aircraft.
smcculloch@timescolonist.com
We thought you might also be interested in..