Rail line removed from Johnson Street Bridge
Feb 25 2012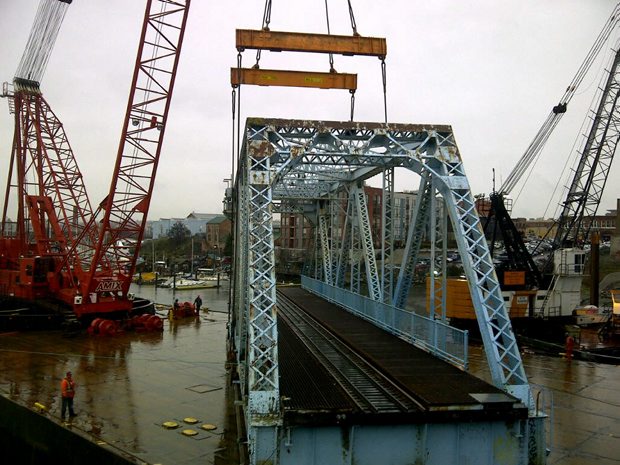 Work in progress to bring down the rail line on the Johnson Street Bridge.
Photograph by:
Bruce Stotesbury , timescolonist.com (Feb. 2012)
Victoria' skyline began to change Friday with the demise of the rail portion of the 87-year-old Johnson Street Bridge.
Onlookers braved a steady rain to concentrate on and around the boardwalk below the Mermaid Wharf development, which provided one of the best vantage points for viewing.
A huge crane was alongside the bridge for the job of taking the 250-tonne rail span from its place to the barge below.
Traffic across the bridge was stopped just before 12:30 p.m., and the span began to move about 12:40 p.m.
Shirley Marsetta stopped for a look and said she had mixed feelings.
"I'm glad they're replacing it, but it's part of Victoria history."
Traffic started moving freely at 1:15 p.m.
We thought you might also be interested in..