Hundreds watch as Blue Bridge's rail span is lifted off into history
Feb 25 2012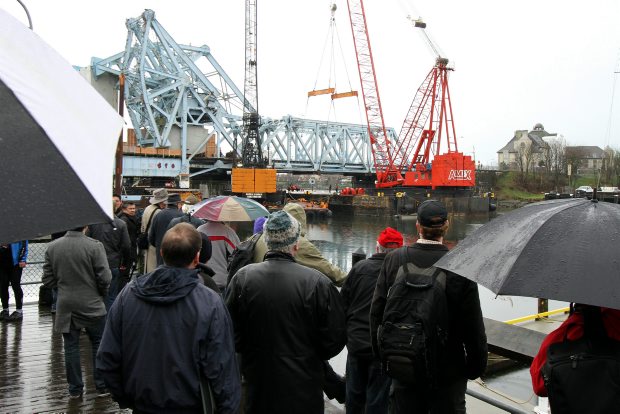 People gather to see the largest ocean-going crane on the West Coast remove the rail span Friday.
Photograph by:
Bruce Stotesbury , timescolonist.com
The rail span on the Johnson Street Bridge seemed a little reluctant to leave Friday.
People gravitated to the bridge all morning in anticipation of the rail span's removal, but it wasn't until about 12:40 p.m. that the 250-tonne section began to budge.
It was all part of the plan, said Andrew Purdey, chief executive officer of the contractor Ruskin Construction.
"Because it's such an old structure and it's substantially thick steel, it just takes that time," he said. "Everything turns out exactly as we'd planned."
It was necessary to place beams under the bridge to support the structure and keep aging steel from bending as the bridge was hoisted, Purdey said.
"The structure itself couldn't handle the load because of its age," he said.
He acknowledged that few jobs draw such public attention. "For our company, this is what we do, but for the city of Victoria, this is an icon that's going to be replaced with something that's equally or more fabulous. It's an interesting project for us . . . and it's nice to be part of it."
The removal of the rail bridge is the most-visible indicator so far that time is up for the 87-year-old Johnson Street Bridge, the main span of which will remain in place and in use while a $77-million replacement bridge is built to the north.
The new bridge is due for completion in March 2016.
Onlookers braved rain, with the biggest group on and around the boardwalk below the Mermaid Wharf development. Traffic across the bridge was stopped from about 12:30 until 1:15 p.m., leading to heavy volume on the Point Ellice Bridge and tie-ups downtown.
Another full bridge closing was scheduled from midnight to 7 a.m. today.
The crowd had grown to several hundred by the time the largest ocean-going crane on the West Coast, capable of hoisting 600 tonnes, went to work on the span. Shirley Marsetta was among many local residents with mixed feelings about what was happening.
"I'm glad they're replacing it, but it's part of Victoria history," she said. "It's still sad."
Ross Crockford, a director of the citizens' group johnsonstreetbridge.org, said it was not a happy day for him.
"I'm not celebrating today," said Crockford, whose group led a petition effort that forced a referendum on borrowing for the new bridge. "We're witnessing the demolition of an [87-year-old] bridge that is one-of-a-kind.
"I suspect we're also witnessing the demise of a 123-year-old rail link into downtown Victoria. The previous bridge was built for the railway and that opened in 1888." The new bridge won't have a section for trains.
Some people were expecting Crockford to engage in an act of protest during the removal, he said with a laugh. "They figured if anybody chained themselves to the bridge, it would be me."
Three-year-old Lily Walsh told her mother that she did not want to watch anything happen to her "rumbly bridge. She was too sad," said mom Aaren Madden. "She said when it comes down, she's going to hide her eyes," said Madden.
"We live on Vic West so we drive and walk across it all the time. It's kind of a part of our daily lives. Her and her older brother have become kind of attached to it."
Madden said she wanted to be there Friday, despite the rain, because it was a historic event. "It can say a lot about who we are in terms of not only how we treat old bridges, but find innovative ways to fix our problems without having to throw out the old and bring in the new," Madden said.
Delores Heeley, 80, watched preparations for the bridge to come down from her scooter.
She said it was important to mark the moment. "We should be here. It's really something to see. I have mixed feelings, it's just something you can always say, 'Hey, I saw the Blue Bridge come down.' "
Gary Shaefer was in a prime vantage point as a member of the Victoria Camera Club, where he is part of a year-old project that has been recording all aspects of the bridge.
"We're just trying to document the Blue Bridge from a neutral point of view," he said.
Shaefer said age had caught up with the Johnson Street Bridge.
"I've been in Victoria since 2005 and recognize it as a historic object, but I also think its time has come and I welcome the new bridge."
Dave Broster, standing next to him, disagreed. "I like the old. I'm a mechanical engineer and I like the structure, and I like the historical significance of it. In that regard, I'm sad to see it go."
The removed section was lowered to a waiting barge and taken to the Ralmax yard, where the steel girders will be recycled.
jwbell@timescolonist.com
smcculloch@timescolonist.com
We thought you might also be interested in..