Fears for wildlife after another Colquitz spill
Feb 25 2012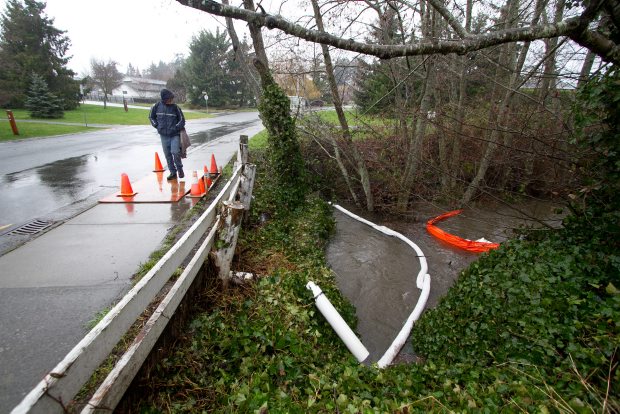 A boom was placed across polluted Colquitz Creek at Vanalman Avenue Friday.
Photograph by:
Darren Stone , timescolonist.com
Home-heating oil has again spilled into Colquitz Creek and there are fears that salmon smolts, herring and a resident beaver could be harmed.
The spill of an estimated 634 litres of oil, noticed Thursday, came from a home on Brookridge Place, which backs on to Colquitz Creek, officially named Colquitz River.
The spill of an estimated 634 litres of oil, noticed Thursday, came from a home on Brookridge Place, which backs on to Colquitz Creek, officially named Colquitz River.
"It's heartbreaking and, this time, it is in the stem of the creek where there is significant spawning habitat," said Christopher Bos, a member of the Colquitz stewardship team.
Three months ago, Colquitz was hit by a fish-killing spill of 1,000 litres of home-heating oil. The clean-up was not completed until this month.
Saanich public works crews responded to the latest spill as soon as the first call was made to Saanich Fire Department. Seven booms have been placed across the river, public works manager Mike Ippen said. The spill was easily traced to the home, he said.
"The property owner was very co-operative. There was an accidental break of the line between the tank and the house, but he wasn't aware of it," Ippen said.
The homeowner, who is responsible for all clean-up costs, has brought in an engineering company and the main drain connection has been plugged to prevent more oil from leaking, Ippen said.
The cleanup is being overseen by the province. Graham Knox, provincial manager of environmental emergencies, said the oil washed into the creek from home perimeter drains.
There are no signs of any effects on fish and heavy rain is diluting the oil, Knox said. "It's not a solution, but it is a help," he said.
It is likely that some oil reached the Gorge Waterway, where herring are spawning, but it would have been diluted, Knox said.
Bos hopes the quick response by Saanich helped, but is unsure about the impact, saying it may be years before the effect of oil on coho smolts is known.
"They are making their way down the creek into the estuary and that section will be subjected to oil. They are very delicate at this point, just two or three inches long," Bos said.
"Yesterday, we were able to smell the oil and there was a surface sheen. We also saw the beaver that lives in the watershed."
If oil gets on the beaver's fur he is likely to ingest it, Bos said.
Spawning herring are one of the biggest worries.
"If oil is flowing into Colquitz it's a concern," said Stefan Beckmann of the federal Department of Fisheries and Oceans.
"There are potential impacts in the ocean."
Since September last year, there have been 11 reported spills of home- heating oil on Vancouver Island, six of which were in Saanich, said Knox, who pleaded for people to check older oil tanks and lines.
Cleanup costs to the homeowner from a leaky tank can be upwards of $50,000 and often is not covered by insurance.
A spill also makes it more difficult to sell a house or renew a mortgage, Knox said.
An oil leak can literally lead to financial ruin, Bos said.
"We do have to address this problem of aging oil tanks at some point," he said.
"There are hundreds and hundreds of them in Greater Victoria and this could happen again tomorrow morning, God forbid."
jlavoie@timescolonist.com
We thought you might also be interested in..