Attaboy! Teen wins spelling bee
Feb 26 2012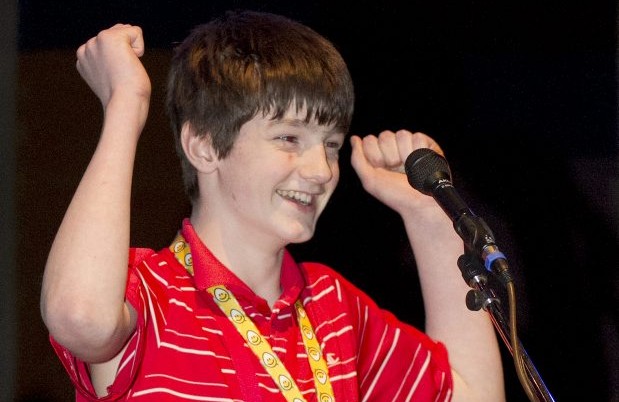 David Underhill celebrates his victory at the Times Colonist regional spelling bee at the University of Victoria's Farquhar Auditorium. The winning word: pyromaniac.
Photograph by:
Lyle Stafford , timescolonist.com (Feb. 2012)
David Underhill, 13, stood with his thumbs in the pockets of his blue jeans, staring past the microphone as the pronouncer gave the final word of the competition.
When "pyromaniac" came through the speakers, he knew he had it. The Grade 8 student at Cedar Hill Middle School was about to become $5,000 richer as the winner of the Times Colonist Vancouver Island Regional Spelling Bee on Saturday.
Even with all that confidence, David stuck to his strategy and asked for the definition of the word and its origin.
With a composed tone, he spelled it precisely, beating out 58 other competitors at the University of Victoria's Farquhar Auditorium.
It took longer than four hours to win it, but David now advances to the national spelling bee in Toronto on March 28.
"I knew I had it, but I didn't want to rush ahead," David said of the championship word.
This was just his second spelling bee. After being ousted early in the competition last year, he was far more prepared Saturday.
"Last year, he was a little cocky and only studied the difficult words," said his father, Gerry.
This year, David had a strategy. Study hard for three months - even the more common words - and take his time when spelling. It worked.
Ava Oulette, 11, lasted to the 14th and final round, but was stumped on the word "fictile."
"I knew I didn't know it," she said backstage after the competition. "I just guessed by the way it sounded."
The Grade 6 student also attends Cedar Hill.
Hannah Smith made it to the fourth round, an impressive run for the seven-yearold Grade 2 student.
Her mother, Joan Lockhart, prepares her daughter by giving her 12 new words to learn every day. Hannah writes them out three times and "knows them right away," said Lockhart.
"It's amazing what these kids can do," said Shannon Kowalko, promotions and community relations manager for the Times Colonist.
"At a time when everyone is texting and instant messaging, it's nice to see young people doing something like this."
David will battle 20 other regional winners at the National Bee for the Canspell Cup, a $7,500 Canspell education award, and a trip to the Scripps Bee in Washington, D.C.
dspalding@timescolonist.com
We thought you might also be interested in..