Cabbies' airport crash claims outlined in suit
Feb 26 2012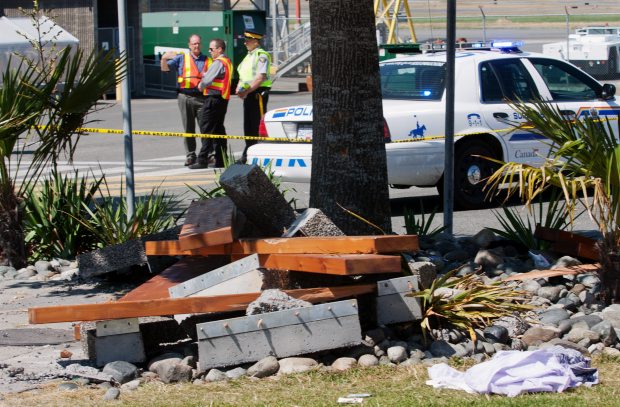 The remains of a picnic table that was destroyed when a car crashed at Victoria airport last July.
Photograph by:
Darren Stone , timescolonist.com
An 81-year-old Saanich woman, whose car hit and killed one man and injured six others, either knew she was not medically fit to drive or should have known, according to allegations in a multi-party civil claim.
The multi-party suit was filed in B.C. Supreme Court by lawyer Chris Considine on Jan. 11. The defendants in court documents are listed as Shirley Murray Zerbin and the Victoria Airport Authority.
A statement of defence has not yet been submitted. The process of serving the defendants notice of the claim may still be underway. "I haven't got confirmation of service yet," Considine said Friday.
The claim is wide-reaching and none of the allegations have been proven in court. It concerns events at Victoria International Airport on July 29, 2011.
Defendant Shirley Murray Zerbin, the owner of a 1990 Pontiac, is accused, among other things, of:
- driving a motor vehicle when she knew, or ought to have known, that her ability to safely operate a motor vehicle was impaired;
- failing to apply her brakes so as to bring the vehicle to a complete stop or to slow the speed of the vehicle so as to avoid the collision; and
- driving a mechanically defective motor vehicle.
Again, these are allegations and not proven in a court to be true.
Sidney-North Saanich RCMP and witnesses said at the time of the crash that a white sedan drove through the airport's short-term parking lot, over curbs, across the terminal's access road and onto a raised berm, where the airborne vehicle hit and scattered a group of Yellow Cab drivers.
The vehicle continued through a luggage cart stand. It eventually stopped when it ran into a security building, witnesses said.
Ramesh Sharma, 57, a married father, was killed. He was a father of three - Sapna 24, who lives in Calgary, Sanjeev, 23, and Sabina, 17.
Six cabbies and the car driver were injured. All six cabbies remain off work.
Three witnesses to the crash and its aftermath claim to be suffering posttraumatic stress disorder. All nine have joined a multiparty civil lawsuit with Considine.
Zerbin and her family were reached, but have withheld their lawyer's name for the time being and declined comment.
Lawyer Sean Taylor, representing the Victoria Airport Authority, said the Victoria Airport Authority will be denying the allegations that have been made against it in the lawsuits filed by Considine.
"The Airport Authority's position in this regard will be fully set out in its responses to the notices of civil claim which will be filed in the British Columbia Supreme Court Registry in due course," Taylor said in an email.
The test in a civil case, with respect to responsibility, is whether or not the person breached the standard of care expected, that would have been expected for a reasonably prudent motorist, Considine said in an earlier interview.
The claimants represented by Considine are Happy Mann, Santoch Sahota, Joginder Makhni, Baljinderpal Sandhu, Manjit Padda, Surinder Leel, Kuljit Nagra, Harbhajan Bhatti and Chaman Hira.
Claimant Happy Mann, for example, says the incident resulted in "shock, pain and suffering; loss of wages both past and future."
In particular, Mann claims in court documents he has suffered "traumatic brain injury; concussion; blurred vision; fractured cervical spine; multiple soft tissue injuries and bruises; post-traumatic stress disorder; nightmares; depression."
In the notice of civil claim, it is alleged that Victoria Airport Authority, and its members, officers, agents, and employees are negligent for matters including "permitting the existence of a dangerous situation in the configuration of the main roadway at the airport which they knew or ought to have known would be confusing for drivers."
Relief sought includes award for damages including non-pecuniary loss; loss of past and future income; loss of earning capacity; past and future care costs; loss of savings and interest from savings, and special damages. Considine will not put a price tag to the claim.
Each participant in the multi-party claim could settle at different times and the entire civil suit could take years to be resolved.
Unlike a criminal trial, in which delays can be detrimental, civil cases involving injuries often need more time so that injuries can plateau and the future health of the complaintants can be better assessed.
The Sharma family has also retained a lawyer, Michael Pohorecky, of MacIsaac & Company, to seek compensation under the Family Compensation Act for what happened July 29. Pohorecky was not available for comment Friday.
Ramesh was the family's main wage earner. He supported his son Sanjeev in his fourth year of an economics degree at the University of Victoria and Sabina in high school.
Before her husband's death, Ramesh's widow, Charan, 52, worked as a housekeeper at the Sandman Hotel. She has not worked since.
Under B.C. legislation, the family can only claim losses for a deceased person's financial dependents.
Sidney-North Saanich RCMP completed their investigation of the crash July 29.
On Jan. 21 - six months after the crash - the RCMP submitted a report to Crown Counsel, "who will now make a determination if any charges are warranted and, if so, what charges they will be," said Cpl. Chris Swain.
The RCMP did not recommended charges.
ceharnett@timescolonist.com
We thought you might also be interested in..