That's the limit, teachers warn
Feb 26 2012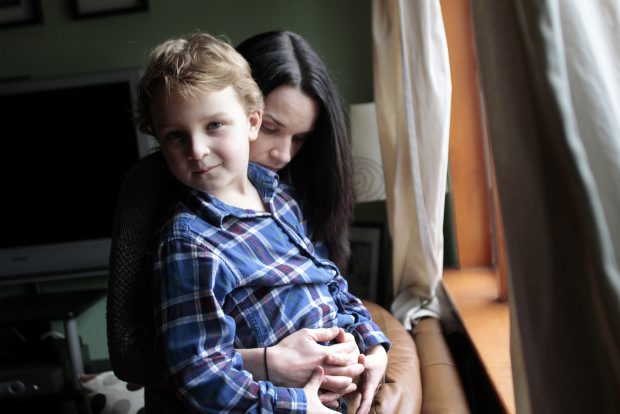 Nicole Strong, a teacher and mother of an autistic boy Isaac, six.
Photograph by:
Lyle Stafford , timescolonist.com (Feb. 2012)
Expect George Abbott to be at the centre of a firestorm in the coming days.
B.C.'s education minister is set to introduce legislation that will force an end to a labour dispute with teachers. But he has also hinted that the bill might include a section abolishing limits on the number of special-needs students in classrooms.
That clause could anger teachers even more than an imposed contract if last week's meeting of the Greater Victoria School Board was any indication. Teachers, angry that the board had called for an end to the limits, packed the meeting to voice their displeasure.
"It has been a long time since I have felt so disheartened," Grade 6 teacher Kristy Kilpatrick told the board.
She and other teachers argue that the limits, introduced in 2006 as Bill 33, serve as a vital safeguard against classrooms becoming too large and unmanageable. The legislation allows just three students with special needs to a class, although that "soft cap" can be exceeded if a school principal consults with the teacher.
The teachers say the problem is not with the limits, but with the fact that they are too often bypassed. The B.C. Teachers' Federation says there are now 12,000 classes in the province that exceed the guidelines.
"It's the only thing right now protecting teachers and children with special needs," said Nicole Strong, a teacher and mother of a boy with autism.
"I can't even imagine having more than three children with special needs in my class, and my son has the same needs. So I get it. I get how much energy they take."
Strong fears that abolishing the limits will eliminate accountability. Districts will no longer have to report on what is happening in classes, resources will dwindle, and administrators will isolate and group special-needs children together as a way to save money. "It's just really scary right now," Strong said.
The Greater Victoria School Board and the Victoria Confederation of Parent Advisory Councils, however, say Bill 33 discriminates against special-needs students by restricting their access to an education.
Worse, they say, the limits discriminate for no purpose, since Bill 33 has never resulted in smaller classes, improved learning environments or additional money.
Abbott endorsed the position of the board and confederation last week, fuelling speculation that he intends to abolish the limits in the coming days.
"This is an area that we are looking at," he confirmed.
Abbott said the "arbitrary" limits lead to cases in which students are barred from elective courses, such as home economics, because there are already three special-needs students in the class.
"We actually know there's an instance where that has occurred," he said.
The minister said a better way would be to assess the individual needs of every student and organize classrooms accordingly.
If a top student happens to need a wheelchair, he said, "is it really reasonable for us, in constructing a class, to say, 'Well, there really shouldn't be this many other special-needs kids, because she has a designation?' "
Even tough government critics, such as Vancouver school board chairwoman Patti Bacchus, agree that the limits are discriminatory.
But Bacchus worries that the government will scrap the limits without putting a better system in place. She suggested a system like Vancouver had in the past, where students were "weighted," so that a child with severe special needs might count as three students when it came time to calculate class size.
"Making the class shrink with every additional student with special needs is probably more realistic and effective," she said.
But such a system requires money, and Bacchus said Abbott's promise of $165 million over three years for special needs education is "a small drop in a very empty bucket."
She said the education system has been so badly eroded that her district would need $70 million next year just to return to 2002 service levels.
"I think you could argue that the provincial education budget itself is discriminatory by not providing the resources to meet the needs of all the students that we are required to meet," she said.
John Bird, president the Victoria Confederation of Parent Advisory Councils, said the move to include children with special needs has never been properly funded.
But he said that is no excuse to discriminate against those students.
"In a way, it's no wonder that we're having the battle about discrimination we're having now; it wouldn't even exist if we had properly funded the thing in the first place," he said.
"Even the union makes that argument, 'If we had sufficient funds, we wouldn't have to discriminate.' And I'm saying, 'That's not a good enough argument. Stop doing it and then let's work together and get what we need.' "
lkines@timescolonist.com
We thought you might also be interested in..