Vigil for Tyler Noble urges non-violence, 'rocks the smiley'
Feb 27 2012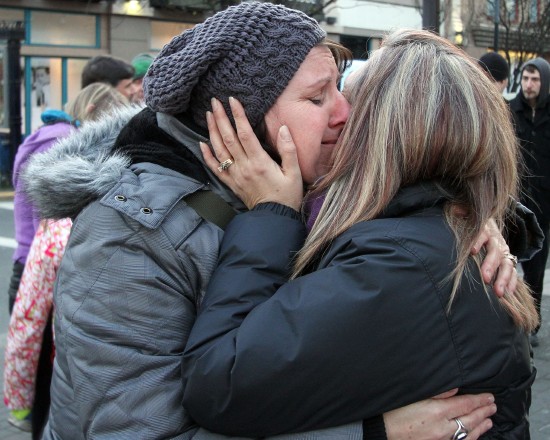 Tyler's Noble's mother, Laurie Noble, left, gets a hug from supporter Shannon Sartori during the vigil for Tyler outside the McDonald's restaurant on Douglas Street on Sunday, February 26, 2012.
Photograph by:
Adrian Lam , timescolonist.com
Click here for photos from the vigil
Helium balloons adorned with yellow smiley-faces bobbed and swayed at a downtown Victoria intersection Sunday evening, demonstrating ongoing support for the family of Tyler Noble.
A crowd of supporters swarmed the corner of View and Douglas streets to light candles and remind the public of the dangers of violence. Balloons of various shapes and sizes floated overhead, tethered by ribbons.
Noble, 20, of Shawnigan Lake, took a punch at that very corner three months ago on Nov. 26 after a night of drinking with his friends. He fell, hit his head on the sidewalk and died hours later in hospital.
Sunday's crowd quickly grew to about 200 people as the sun slowly set around 6 p.m. They lit candles and handed out anti-violence bracelets. They hugged and laughed; some cried.
The corner fell silent for a moment as everyone paid tribute to the young man who inspired them as few others had.
"I'm here to show his family my support and to give thanks [to Noble] for the person he made me become," said Matt St. James, who worked with Noble at a McDonald's restaurant in Mill Bay.
Crosswalk signals beeped during the moment of silence. Coffee cups steamed; engines roared as vehicles passed along the busy street. Each person in the crowd stared toward the ground where Noble had lain unconscious on that fateful morning in November.
"This is for you Tyler," said Noble's dad, Ken, as one of the smiley-face balloons floated into the cobalt-blue sky.
Hollers and cheers echoed off the buildings as the crowd lifted candles above their heads.
"We need to send a message that this is not OK," said Shannon Sartori, a close friend of the family. "Be kind to one another."
Life after Tyler's death has been a long string of "dark days" for family members, who struggle to put together hours at a time without emotionally falling apart, Ken Noble said.
Tyler's mom, Laurie, has not returned to work since her son's death. His sister Samantha was in the middle of exams at the University of Victoria when Noble died. She has not returned.
They visit doctors regularly because they struggle to get to sleep at nights. They are getting help from victims' services and soon will be going to regular therapy sessions.
"The days are pretty dark right now," Ken Noble said. "Sometimes you just cry the day away, really. Two weeks before he died, he was telling me he was looking forward to having kids. This isn't right."
The constant reminders of their son can trigger a breakdown at any moment. Recently, they were going through Tyler's leather jacket and found his wristwatch. They described it as a bit tacky, but it's what Tyler called his "bling watch."
"It was almost of bit of a joke … but he said the ladies liked it," Ken said. "He never wore it into the city when he went out, so he must have put it in his pocket before he left."
Going out in public doesn't dislodge the tragedy from their thoughts. Even getting groceries can be difficult. The family still shops at the local Thrifty Foods, where Tyler used to work.
Life is different without their son. They buy far less food, leaving certain items in the store — like red meat — that only he had a taste for.
No one should have to suffer the loss of their son, Ken said. Which is why Tyler's family and friends wanted to send a strong message to the public as Brandon Huth, the man alleged to have punched Noble that night, returns to court this week on a charge of manslaughter.
Sunday's planned vigil was part of sending that message. The iconic happy faces were on more than just balloons. They have become part of the Noble story.
Tyler got a small smiley-face tattoo while visiting Thailand and boasted about it when he got home. His friends initially made fun of it because it was so tiny and not at all rugged.
That tattoo, however, is now on hundreds of people's ankles. The same symbol is on at least 250 purple shirts, which also don the motto, "Drop your ego, not your gloves."
Red ribbons were handed out on Sunday with another anti-violence message: "Rock the smiley."
Ken Noble plans to devote much of his time to fighting violence. The family has been talking to anti-violence organizations and could soon reach a deal to share their tragic story in order to fight against violence.
dspalding@timescolonist.com
We thought you might also be interested in..