Driver in 2009 fatal crash gets two years less a day
Feb 28 2012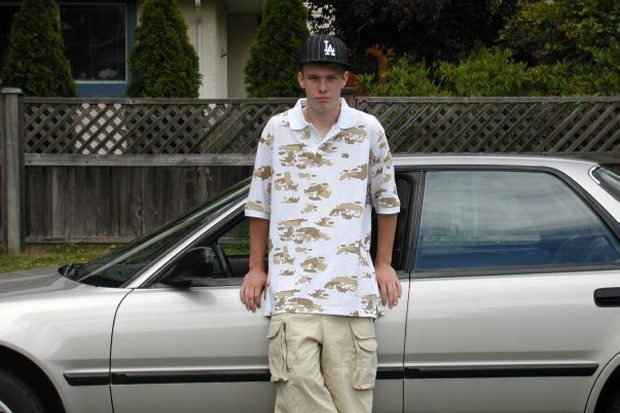 Crash victim Jamie Jackson in front of his beloved 1990 Acura Integra.
Photograph by:
VIA FACEBOOK , .
Jamie Jackson's family gained some closure Monday with the sentencing of the man whose driving caused the 19-year-old's death, but it didn't keep the completion of the court case from being an emotional time.
Jackson was in his prized, mint-condition 1990 Acura Integra on Happy Valley Road in January 2009, when he was hit head-on by a vehicle driven by Arnett Roderick Marchbank. Marchbank pleaded guilty to dangerous driving causing death.
B.C. Supreme Court Justice Keith Bracken sentenced Marchbank, 53, to two years less a day of jail time, along with handing him a five-year driving prohibition and ordering that a sample of his DNA be taken. Bracken said several witnesses commented on how fast and reckless Marchbank's driving was on the day of the crash, with one saying it was as if Marchbank was "in a racing game."
Police were told by witnesses that the collision took place when Marchbank's station wagon was passing on a curve with a solid-yellow line. It was about 5:30 p.m. and road conditions were good, Bracken said. "It was not a simple driving error or mistake," he said.
He said Marchbank indicated he was heading to a friend's place at the time.
The sentence was in line with that requested by prosecutor Ruth Picha, who called for two to three years. Defence lawyer Dale Marshall suggested a range from a suspended sentence to a one-year jail term.
Jamie's father, Don Jackson, noted that it had been a long process to get the case resolved.
"Well, it's over," he said outside the courtroom, with several other family members around him. "For the way things go in these types of collisions, we got the best we could have hoped for."
He said that doesn't make it easier to accept that Jamie has been gone for three years.
"It's been 1,153 days since then."
Marchbank's prison term will be less than that, he said.
Gary Jackson, Jamie's uncle, said he hopes Marchbank will emerge from jail to do some good in the community, and ultimately become a better person.
Marchbank also had backers at the sentencing. Bracken noted that letters of support for the self-employed mechanic called the incident "out of character." Marchbank had had only two speeding offences on his record before the fatal crash, Bracken said.
He said Marchbank, who sat quietly through the proceedings, has expressed his remorse.
jwbell@timescolonist.com
We thought you might also be interested in..