B.C. teachers could strike as early as Monday
Feb 29 2012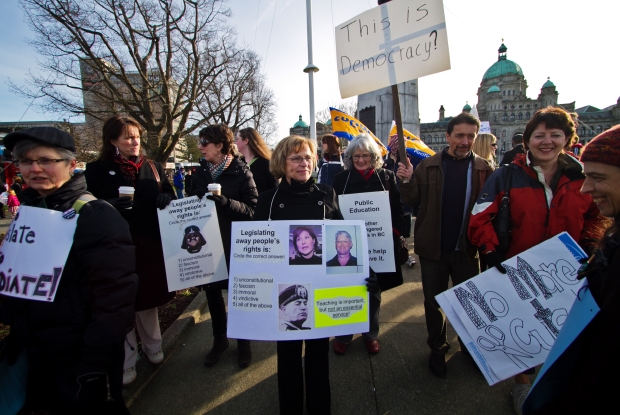 Teachers demonstrate at the B.C. legislature.
Photograph by:
Darren Stone , timescolonist.com Feb. 27, 2012
Students and parents could face a full-scale teachers' strike as early as Monday despite a move by the B.C. government to legislate an end to the labour dispute.
Education Minister George Abbott introduced a bill Tuesday that, once passed, will impose a "cooling off" period until September. Bill 22 also extends the teachers' current contract and appoints a mediator to try help the two sides achieve a negotiated settlement.
Teachers, however, might still have time to stage a legal walkout depending on when the legislation passes.
The B.C. Teachers' Federation, which denounced Abbott's bill as a "sham" and a "mockery," received approval from the Labour Relations Board on Tuesday to stage a limited walkout.
The board ruled that teachers can strike for a maximum of three consecutive days in the first week, provided they give two school days notice to parents and students. Teachers are expected to conclude voting on strike action today — putting them in a position to give notice and walk out on Monday.
The B.C. Liberal government, with its majority, could avert a strike by pushing the bill through the legislature as early as Thursday. It could move even more quickly if the Liberals declared it a matter of urgency.
"I hope that we will get this legislation in place before we see any further job action in any public schools in British Columbia," Premier Christy Clark said Tuesday.
But she said her government needs the Opposition NDP's cooperation to pass the bill quickly and avoid disruption in schools.
NDP leader Adrian Dix called that ridiculous, noting the Liberal government has cut short debate and forced bills into law more often than any government in the province's history.
"What the government is trying to do is play political games," he said.
Bill 22 holds firm on government's net-zero mandate, which means the overall cost of the teachers' contract has to stay the same. The mediator, however, will be able to help the two sides find savings within the current contract that could boost teachers' wages and benefits, Abbott said.
"We're giving the parties one more opportunity, inside the mediator's mandate, to potentially change some things," he said. "We are not going to deviate from net zero, but there's no news in that. We've said it right from the start of this discussion. There should be no surprise that what we're putting in place here is a net zero mandate."
B.C. Teachers' Federation president Susan Lambert called the bill cunning, insincere and the "height of political cynicism."
The union had been calling for mediation to settle the dispute. But she said the government's version is a "sham" because it leaves the province's 41,000 teachers vulnerable to major concessions on seniority and teacher evaluations while forcing them to stay within the net-zero "box."
"This act does not provide for mediation," she said. "To suggest otherwise is yet again another mockery of the process."
If the two sides are unable to reach a deal, the mediator, who has yet to be named, will issue a report by June 30 with non-binding recommendations.
The government then has the option of recalling the legislature and imposing a contract to prevent teachers from taking further strike action in September.
Abbott made clear that he will not tolerate another school year like this one in which teachers have pressed their contract demands by refusing to write report cards, meet with administrators or supervise playgrounds.
"We didn't come to this point to have a strike in September, I can tell you that," Abbott said.
lkines@timescolonist.com
rshaw@timescolonist.com
We thought you might also be interested in..