Wind warning issued for Greater Victoria Tuesday night
Feb 29 2012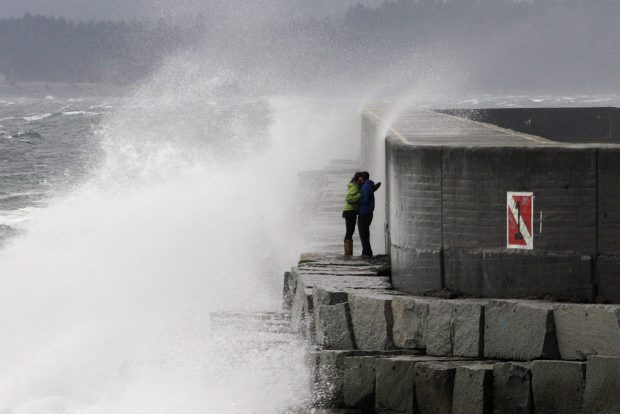 Storm watchers brave the waves at Ogden Point on Tuesday.
Photograph by:
Lyle Stafford , timescolonist.com (Feb. 28, 2012)
Hang onto your hats and stow away your empty garbage cans — strong winds are expected to buffet Victoria Tuesday night.
The wind is to blame for a Garry oak tree losing a branch and a slightly damaged a house on Midland Road in Oak Bay Tuesday afternoon.
Environment Canada posted a wind warning for Greater Victoria at 4 p.m. Tuesday, calling for winds of 70 km/h to sweep across the south Island.
The weather system could also bring with it a mixture of snow and rain, with snow accummulating to several centimetres at higher elevations.
The winds are expected to ease overnight.
We thought you might also be interested in..