Challenged books deserve to be read, library boss says
Feb 29 2012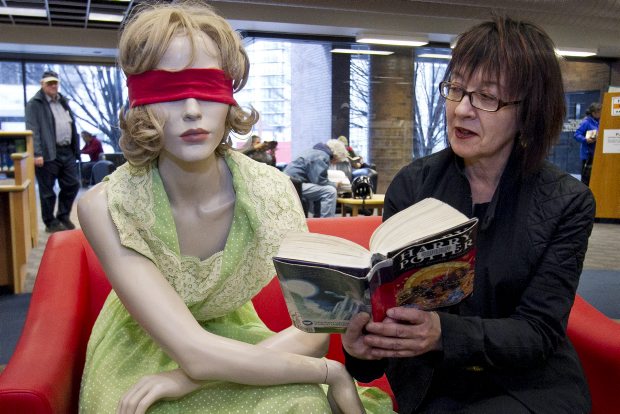 Manager of Public Services Patricia Eaton reads in front of a blindfolded mannequin for Freedom to Read Week.
Photograph by:
Adrian Lam , timescolonist.com (Feb. 2012)
It's Freedom to Read Week, a chance to celebrate the wide variety of books and periodicals available to the public.
A display in the main branch of the Greater Victoria Public Library consists of a blindfolded mannequin sitting alongside stacks of once-controversial books, which include Harry Potter books and novels by Stephen King and John Grisham.
Freedom to Read Week "reminds us we quite simply can't afford to take freedom of speech for granted," said library CEO Maureen Sawa on Tuesday.
The event is sponsored by the Book and Periodical Council of Canada.
The GVPL website lists books in the library's collections that were once challenged. These include many commercial and literary successes, such as Margaret Atwood's The Handmaid's Tale, which was the focus of a complaint by a Toronto parent over "profane language," anti-Christian overtones, "violence" and "sexual degradation." A review by the Toronto District School Board resulted in a decision to keep the novel in the curriculum in Grades 11 and 12.
Even children's books are at risk of offending people. In 2006, a Prince George parent complained that Catch That Cat: A Picture Book of Rhymes and Puzzles by Monika Beisner was "occult and scary." The book was retained in the Prince George library system.
In 2007, a Saskatchewan school's librarian withdrew Nikki Tate's book Tarragon Island, which is about a dispute over clearcut logging in B.C. In the novel, a girl's grandmother protests against logging and poses topless for a calendar. Boys taunt the girl, calling the grandmother's breasts "bazoongas," a word that offended the librarian. The book was later returned to the shelves on the advice of the principal.
Even the GVPL gets challenged regularly over books in its collections, prompting reviews.
"It's remarkable, over the years, the books that have been challenged," Sawa said.
The books that had been subjects of challenges are deserve to be read, she said. "If every one of those titles had been challenged successfully, how much poorer we would be in terms of literature," Sawa said.
For more information, see www.freedomtoread.ca and www.gvpl.ca.
smcculloch@timescolonist.com
We thought you might also be interested in..