Not even the unburned items can be saved
Mar 01 2012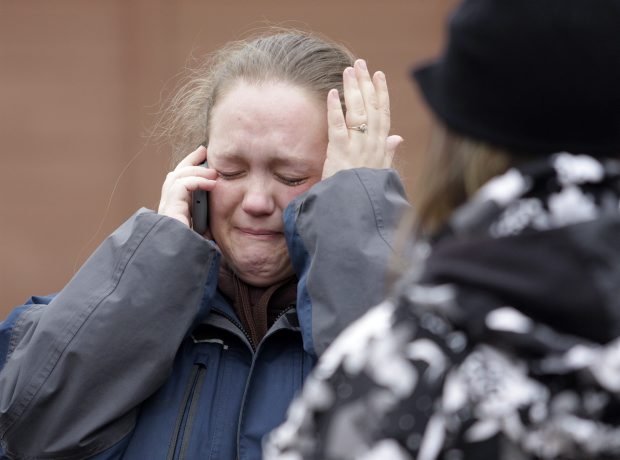 Resident Tiana Pye reacts to the fire in her home
Photograph by:
Lyle Stafford, timescolonist.com (Feb. 2012)
Help is pouring in for Tiana Pye and her family, who lost all their possessions when fire ripped through their rented home in Evergreen Terrace.
But some things can never be replaced, said Pye, who is temporarily living in a hotel room with four children and her boyfriend, Damien Sinclair.
"All the family pictures are completely irreplaceable," she said.
Other family records were on the computer, which melted to the living room floor, Pye said.
"I had a new laptop that I had just bought for school," she said.
The laptop that survived belonged to Sinclair. "And that's in interesting shape. It's black and it stinks," Pye said.
The family is also hoping someone in the area around Blanshard and Bay streets will find Tigger, their small tortoiseshell/tabby cat.
"We were told she had been seen outside the house, so we have people looking out for her," Pye said.
Donations of toys and clothes have poured in for the sevenyearold boy and the girls, 2, 3 and 6, but the family is still in need of items such as a microwave oven, kitchen utensils, towels, bedding and curtains.
Even household items that were not burned cannot be saved, Pye said.
"My daughter has really bad asthma, so we can't keep anything touched by the fire," she said.
The family will be moved to a B.C. Housing suite in the same complex as soon as it is ready.
"Our primary concern is about the health and well-being of tenants in our buildings. We are very happy to learn that no one in the units was injured," said B.C. Housing spokesman Seumas Gordon.
Contrary to initial reports, there are no sprinklers in the Evergreen Terrace units, he said.
"However, each unit is equipped with hard-wired smoke detectors that are tested on an annual basis and replaced as needed," he said.
Damage to the row-house and its contents and smoke damage to the next-door unit is estimated at $250,000.
The contents of the home were not insured.
"But we'll be getting insurance this time," Pye said.
Donations will be collected Saturday from 10 a.m. to 3 p.m. at CDI College, 950 Kings Road, said director Chris Velasco.
Pye is taking a medical office assistant course at the college and is due to graduate in June.
"She's a fantastic student. She was doing really well up to this point," Velasco said.
Retail and food gift cards would be appreciated, as would any larger items, Velasco said.
Any surplus will be donated to charity.
A trust fund for the family has been set up through the Blanshard Community Centre.
Cheques should be made out to the Downtown Blanshard Advisory Committee with a notation that it is for the Pye family fire fund, and handed in at any Vancity Credit Union branch.
jlavoie@timescolonist.com
We thought you might also be interested in..