Victoria, Saanich councils consider interim improvements to transit; LRT for long term
Mar 01 2012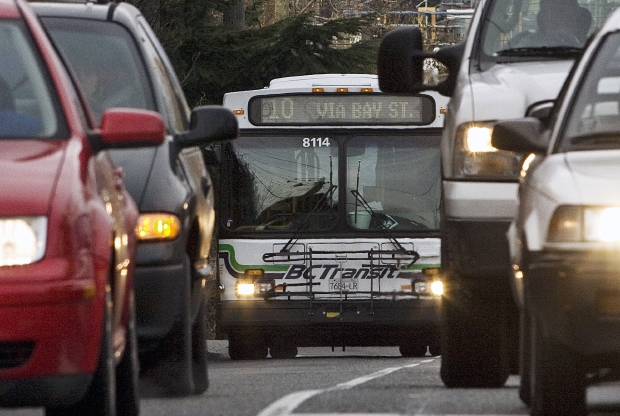 B.C. Transit operates has come under criticism.
Photograph by:
Adrian Lam , Victoria Times Colonist
Light Rapid Transit may be the way of the future, but steps have to be taken now to move more people more quickly on buses, Victoria and Saanich councillors agreed in a joint council meeting Wednesday.
"I think we all came to realize just how long term the goal of LRT is," Saanich Mayor Frank Leonard said after the meeting in which the two councils were given an update on the proposed $950-million light rail system to link Victoria with the West Shore.
"Even the logistics of working through the next set of studies is going to last longer than this term of office. So that really brought to light the need to get on with some interim [transit improvement] measures."
Interim measures would include everything from implementing improved traffic signals for buses, to designating bus-only lanes during limited hours or even permanently designated bus or HOV lanes.
The 18 council members received a letter from representatives of the Camosun College and University of Victoria student societies complaining of an increase in "pass-ups" - packed buses leaving students waiting at bus stops.
The student society representatives called for additional service hours as well as implementation of bus/HOV lanes during peak travel times on routes such as Quadra, McKenzie, Hillside and Douglas streets.
"Given the sheer volume of buses using Douglas Street, it would be the most feasible for a HOV-lane pilot project," wrote Madeline Keller-MacLeod, of Camosun, and Jaraad Marani, of UVic, in the letter.
Both Leonard and Victoria Mayor Dean Fortin said interim improvements have to happen sooner rather than later.
"There's a real commitment by both councils that it's got to come to front of the agenda. We want something to happen this year," Leonard said.
"There's a mutual interest in saying, 'However long it's going to take to get rapid transit done, let us move forward on interim measures now,' " Fortin said.
The Victoria Regional Transit Commission, the Capital Regional District, the B.C. Transit Board, Saanich and Victoria have all endorsed plans for a light rail system between Victoria and the West Shore, but they need support from senior levels of government to proceed.
Work is currently underway to develop potential funding.
Wednesday's joint council meeting - the second held by the two councils - was to explore the potential impact of such a system on the Douglas Street corridor between Uptown and downtown.
Several councillors spoke to the potential for revitalization along the Douglas corridor that rapid transit could bring.
The two municipalities have a "once-in-a-lifetime opportunity" to plan and create a dense new community in the corridor area, said Saanich Coun. Vic Derman.
"It's wonderful to have something like Dockside Green in the city of Victoria. But really what we want to do is create Dockside Green on steroids," he said.
Victoria Coun. Ben Isitt called for development of a Midtown Master Plan along the lines of Vancouver's master plans for Yaletown and False Creek, saying the Douglas Street corridor has outgrown its name. The area has the potential to provide thousands or even tens of thousands affordable homes, Isitt said.
bcleverley@timescolonist.com
We thought you might also be interested in..