Updated: B.C. teachers to begin strike on Monday
Mar 01 2012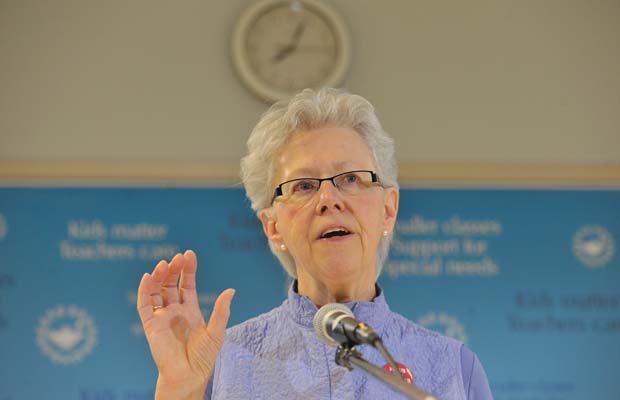 BCTF president Susan Lambert talks to media at the Vancouver office during a Thursday morning press conference to announce B.C. teachers will strike starting on Monday.
Photograph by:
Ward Perrin , PNG
As the B.C. Teachers Federation gears up for three days of full-scale strike action to begin Monday, the NDP plans to bring to a standstill government legislation aimed at stopping the strike.
BCTF president Susan Lambert announced Thursday morning that the province's 41,000 teachers "will withdraw their services" for three days, beginning Monday.
The B.C. Labour Relations Board granted the union the right to stage a limited three-day walkout next week.
BCTF members on Wednesday night voted 87 per cent in favour of escalating current job action to a full-scale walkout. Of 32,309 votes cast, 27,946 were in favour.
These results demonstrate to the provincial government that Bill 22 will not fix a broken relationship, Lambert told reporters Thursday morning.
The B.C. government could shut down the strike by accelerating legislation aimed at ending the labour dispute. Bill 22, which was to receive second reading Thursday, imposes a "cooling off" period until September, extends the teachers' current contract, and appoints a mediator to help both sides reach a collective agreement.
However, Education Minister George Abbott told reporters Thursday morning while he is "disappointed" by the teacher strike, the government bill is too complex to fast-track.
Abbott said it wouldn't be fair to rush it through without debate. He also ruled out having MLAs sit through the weekend to give enough time to consider the bill, saying they'll instead take the issue back to their constituencies and pick up work again on Monday.
It appears likely the teachers could be clear for their entire three-day strike window next week, with Abbott saying the bill could be debated during next week and beyond if necessary.
Abbott said Premier Christy Clark agrees with his approach, despite Clark saying repeatedly over the past two days that she wants to make sure students don't miss a single day of school because of the labour dispute.
Abbott said it would be a fair interpretation to say government is allowing teachers to vent their frustrations through the strike action.
The teachers are legally allowed to hold three days of strike action next week, followed by one day each week thereafter as long as there is two days notice before each walkout.
The Opposition NDP, which plans to vote against Bill 22 when it is expected to be brought forward this afternoon to begin second reading, will put up each of its 34 MLAs as speakers and use the maximum time available, said NDP house leader John Horgan.
That could add at least three days to the proceedings and would likely push passage to late next week, if not the week beyond.
Horgan said that's not a delay, as the government might characterize it, but simply the Opposition doing its job.
"I know all of the members of the NDP caucus feel very passionately about public education," he said. "This is an opportunity. We were elected to do this job, that's why we come here. It's a game to the premier. It's life to families and communities right across this province. She wants to play with those lives, that's her business. We're doing our job as opposition highlighting the deficiencies in their legislation."
The NDP can slow the bill to a standstill, if it wishes. It could toss in amendments during various stages – a past Opposition tactic – forcing government MLAs to repeatedly run back into the chamber and vote down each attempt.
Each MLA gets half an hour to speak. Party leaders (or designated alternatives) receive two hours. The NDP alone could eat up around 18.5 hours of time talking about the bill.
An average day at the legislature allows for around six hours of debate. And many of the 47 Liberal MLAs are likely to be eager to speak as well, further adding to the clock.
Eventually, the government can flex its majority, cut short debate and ram the bill into law by introducing what's called "time allocation" – which sets a limited number of hours and closes everything down at a set time. Government house leader Rich Coleman has said he has no plans, so far, to use time allocation.
In an act of protest over "how our teachers are being treated," a Greater Victoria School district-wide student walkout is planned for 1:30 p.m. Friday with students arriving on the legislature lawns by about 2-2:30 p.m.
Objecting to the legislation, students are sick of the government cutting funds and forcing our teachers to work in crowded classrooms while being under-paid, said Spectrum Community School student Samantha Huffam.
While wages are not the only issue in this labour dispute, in 2010-11, Greater Victoria's so-called Category 5 teachers, for example, earned from an entry level base salary of $48,626 to $74,353.
So-called Category 6 teachers, who hold master's degrees, earned from $53, 676 to 81,707. About 25 per cent of teachers fall into this category of having a master's degree, according to the BCTF.
Abbott assured parents Thursday that principals and support staff will remain in schools next week, and that the facilities will be open for parents who need to drop off their children for care.
It won't be a regular school experience, with structured courses, but the facilities are open in case children need somewhere to go, he said.
Keven Elder, superintendent of the Saanich School District, said the district will manage the situation "as best we can to support families."
All of the district's employees will be working next week with the exception of teachers.
"We are asking parents to keep their children at home," Elder said, as there will be no instruction. Those who do show up, will be supervised for custodial purposes.
Elder said the district is "concerned about a loss of learning for Grade 12 students." To that end, the district is inviting Grade 12 students to attend school to take part in self-directed learning or group study. The students will be supervised by education assistants and likely set up in the library or another suitable space.
"We're prepared," Elder said. "We're keeping emotion out of it whether we're disappointed, it is what it is, it's legal job action."
Elder said it's most important that the district maintain high-quality relationships with all stakeholders. "Our goal is to manage our way through this in a way that has us come out the other end with strength and relationships intact."
John Bird, of the Victoria Confederation of Parent Advisory Councils, said students are expected to take their books home and continue studying during the three days of strike action.
"What we have here is the union exercising its rights and we respect that — bottom line," Bird said. "Both sides are making fairly strong moves here."
Bird said the confederation's concern is students. And while the strike is unlikely to have a "huge" impact on younger students, it may prove very tough for high school students in their final year. "They can't get behind," Bird said.
Lambert said the BCTF acknowledges the strike will inconvenience parents and asked that they understand teachers are acting out of frustration over a decade of underfunding which makes it difficult for them to meet students' needs.
If Bill 22 is brought into law, fines for such strike action would be $1.3 million a day, according to the BCTF.
rfshaw@timescolonist.com
ceharnett@timescolonist.com
We thought you might also be interested in..