Clark to teachers: Don't strike
Mar 02 2012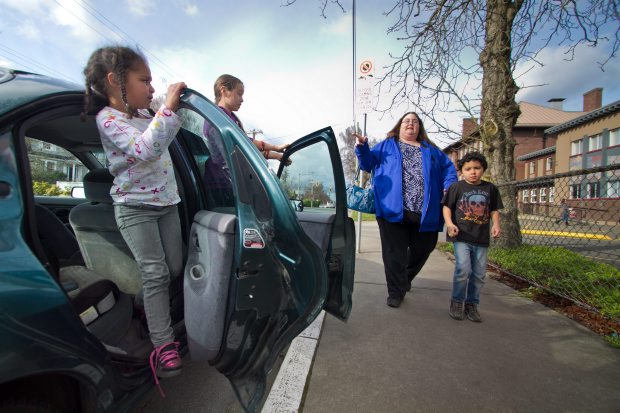 Brandi Langford collects her children -- Kayley Langford, 7, left and Kayden Harris, 6, right, as well as their friend Starla Webster, 10, from Quadra Elementary School for a ride home.
Photograph by:
Darren Stone , timescolonist.com (March 2012)
Premier Christy Clark is urging the province's 41,000 teachers not to follow through on their plan for a three-day walkout starting Monday in a dispute over pay and working conditions.
Clark stressed she does not want to see children miss a single day of school because of the dispute. The government has introduced Bill 22 to end job action that started last year.
"This legislation is going to come into force at some point," Clark said. "It really is up to the teachers' union to do the right thing now - just accept it and decide not to disrupt students' lives."
The B.C. government continued Thursday to roll out Bill 22, which imposes a "cooling off" period until September, extends the teachers' current contract and appoints a mediator to help both sides reach a collective agreement.
Education Minister George Abbott said the bill is too complex to fast-track and it wouldn't be fair to ram it through without debate, meaning the three-day strike is likely to occur uninterrupted.
The Opposition NDP plans to delay passage of the bill - encouraging each of its 34 MLAs to maximize their speaking time against it, said NDP house leader John Horgan.
That could tie up the bill's passage for three days.
Members of the B.C. Teachers' Federation voted this week to escalate their job action to a walkout. Results released Wednesday night showed a 75 per cent turnout. Of those who voted, 87 per cent supported a walkout. On Thursday, the union said its members would go on strike Monday. The B.C. Labour Relations Board has ruled that teachers cannot set up picket lines.
"They have the democratic right to do this, but boy, I'll tell you, it's not going to change the outcome, except that it's going to make life really difficult for a lot of families," Clark said.
Union president Susan Lambert was infuriated by Clark's comments.
"My response to Christy Clark, who brought in the legislation in 2002 that stripped teachers of their collective agreements and allowed this government to rob $3.5 billion from education, is she needs to rethink her priorities and think of her children-first and families-first agenda," Lambert said.
Teachers are walking out because of the attack on their bargaining rights and underfunding of education that has led to worsening conditions in schools, Lambert said. "We've had it, we are at the very end of our tether; that's why we are standing up on Monday, Tuesday and Wednesday of next week," Lambert said.
Parents are encouraged to find child-care arrangements, said Abbott.
"However, for parents unable to secure alternate arrangements, all public schools will be open and students will be cared for and supervised."
Schools will be staffed by non-union workers such as principals and vice-principals, secretaries and janitors. Capital region school superintendents stressed that parents are best to find alternative care, expressing concern that support staff cannot do the work of teachers and there are too few administrators and education assistants to care for a large group.
Following next week's three-day strike, the union is permitted to hold one day of strike action each week thereafter. On March 12, the Greater Victoria district starts a two-week break.
Saanich and Sooke districts begin a one-week break on March 19.
School-based child-care services, such as beforeschool and after-school care, are not affected by the strike, Abbott said.
In an act of protest over "how our teachers are being treated," a Greater Victoria district-wide student walkout is planned for 1: 30 p.m. today. Students plan to arrive at the legislature by 2: 30 p.m.
The salary range for Greater Victoria's Category 5 teachers was $48,626 to $74,353 in 2010-2011. Category 6 teachers, with master's degrees, earned up to $81,707, the union says.
ceharnett@timescolonist.com
rfshaw@timescolonist.com
We thought you might also be interested in..