Parents band together for child care
Mar 02 2012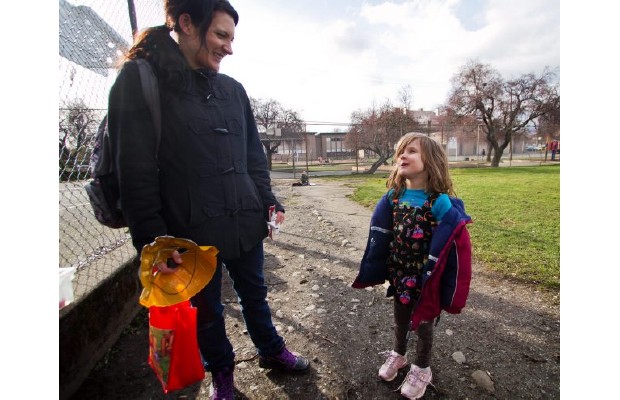 Lisa Lozer and her daughter, six-year-old Adriana, at Quadra Elementary School on Thursday. Lozer, an at-home mom, has been volunteering to provide child care for other parents in case of a strike by B.C. teachers.
Photograph by:
Darren Stone , timescolonist.com (March 2012)
Some Victoria parents are banding together to help each other out with afterschool child care during an impending strike by B.C. teachers.
"I'm really flexible because I'm at at-home mom. I've just been volunteering my services for those who want me to take their kids," said Lisa Lozer, mother to Adriana, 6. "I was even going to put on Facebook: 'If you need to drop off your kids, come to my house!' "
Teachers have scheduled strike action next week from Monday until Wednesday. Schools will be open with administrators and support staff on the job but no classes will take place.
Officials are recommending that parents not send their children to school.
Maia Olff says she's fortunate that she'll be available most of the time to stay home with her fiveyear-old son while teachers at Quadra Elementary School are on strike.
"I only work part time and I have wonderful inlaws," said Olff. "I totally support the teachers, I want to make them some cookies. I'm actually going to volunteer - to watch other kids for working parents."
Brandi Langford is more concerned about how the loss of classroom time will affect her children.
"I don't think it's good for the kids to be off school, the structure and the learning part of it all," said Langford as the stay-at-home mom picked up her children - Kayden Harris, 6, Kayley Langford, 7, and their friend, 10-year-old Starla Webster - from school on Thursday.
"They're upset about [the strike] too. I don't think people think about how it affects them."
Tami Tate, chairwoman of the Parent Advisory Council at Oak Bay High School, said the situation is like a "bad divorce" between teachers and the government.
"Everybody says they're not going to hurt the kids, but it's the kids that are going to get hurt," she said.
Tate said she has one son in Grade 11 and another in middle school.
"For older kids, it's scary because they have exams coming up and they're losing that valuable time at school right now," she said.
"This is when it's starting to really count for Grade 11 and 12 and for university."
She said a strike that lasts a few days may be tolerable, but hopes it will be resolved before it goes much longer.
The superintendents of all three capital region districts urged parents not to send their children to school.
At Belmont Secondary in the Sooke school district, there are 1,500 students and three administrators, said district superintendent Jim Cambridge. "There is no way we can offer a safe education program for kids." He encouraged parents of young children especially to find care for their kids.
Keven Elder, superintendent of the Saanich School District, echoed those sentiments but encouraged Grade 12 students to attend school to take part in self-directed learning or group study.
Saanich schools already had a professional-development day booked for Monday.
John Gaiptman, superintendent of the Greater Victoria School District, said "the issue we are worried about is supervision of younger children."
"The support staff will only be doing work they would normally do on a regular day," Gaiptman said.
"We will not have any instruction because we will not have any teachers."
smcculloch@timescolonist.com
We thought you might also be interested in..