Poll says bus riders frustrated by overcrowding and long waits
Mar 02 2012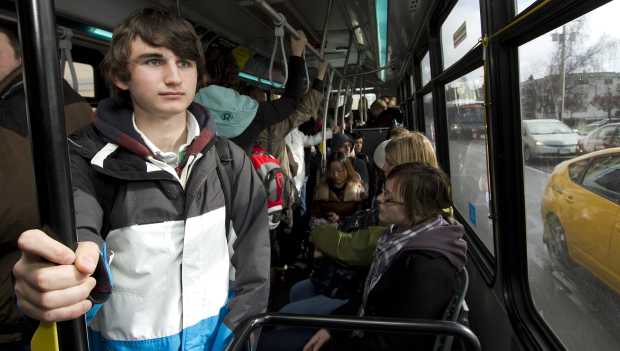 For University of Victoria student Dallas Cox, it's standing room only on a B.C. Transit bus Wednesday. A poll commissioned by the bus drivers' union says that riders are frustrated by overcrowding and long waits, and want control of the service shifted from the province to local hands.
Photograph by:
Adrian Lam , timescolonist.com (Feb. 29, 2012)
Greater Victoria residents are frustrated with overcrowded transit buses and long wait times at bus stops, according to a poll commissioned by the bus drivers' union.
Survey results released Wednesday also show that users want to shift public transit responsibilities away from the provincial government and onto local municipalities.
Citing the Angus Reid opinion poll, the Canadian Auto Workers Local 333 called on government to improve services in Greater Victoria, saying increased funding and additional buses are long overdue.
Fifty-one per cent of the 462 people surveyed said they experienced overcrowding and 42 per cent said they had long wait times while riding buses.
Those results were echoed by riders on a packed 16 Express bus from the University of Victoria.
"Normally it's packed more than this," said student Margaret Brightman. "Sometimes you can't even move at all."
B.C. Transit staff were not surprised by the results. They regularly hear about riders having to wait at stops as full buses pass by.
"We don't want pass-ups, we don't want any one left behind, but we have to best manage the resources with the money we have," said Meribeth Burton, corporate spokeswoman for B.C. Transit.
Ben Williams, president of the bus drivers union, said local government could operate the system much more efficiently.
"It would be a system that is more accountable to the people of this region," he said. "The B.C. Transit model is a broken model with too much interference from the provincial government."
The majority of those surveyed (60 per cent) agreed, saying they support transferring public transit responsibilities to Greater Victoria municipalities.
The results resurrected discussions about local governments taking control of transit. Several mayors in Greater Victoria asked Transportation Minister Blair Lekstrom last year to consider this option when the minister announced he would conduct a review of B.C. Transit.
Lekstrom's staff could not confirm when that review would be completed.
The provincially appointed Victoria Regional Transit Commission — made up of representatives from municipal councils — sits in limbo.
Just three members — Victoria Mayor Dean Fortin, Saanich Mayor Frank Leonard and Saanich Coun. Susan Brice — remained after the Nov. 19 municipal election.
New appointees were expected to be announced by the end of February, but that self-imposed deadline has come and gone. The names are coming soon, said communication officers in Lekstrom's office.
Survey results also show that 67 per cent of respondents support bus-only lanes during morning and evening rush-hour traffic. Forty-four per cent say there is a lack of late-night buses.
Waiting at the curb while full buses pass by appears to be a problem on some bus routes. The poll shows that 34 per cent of those surveyed have experienced "pass-ups."
Dallas Cox rode the No. 16 bus on Wednesday afternoon. He said he has spent 40 minutes waiting as buses roll by.
"It's actually quite ridiculous, standing there for 40 minutes doing nothing," he said.
dspalding@timescolonist.com
We thought you might also be interested in..