Fire ripped through city rowhouse — 'so glad no one was in there'
Mar 02 2012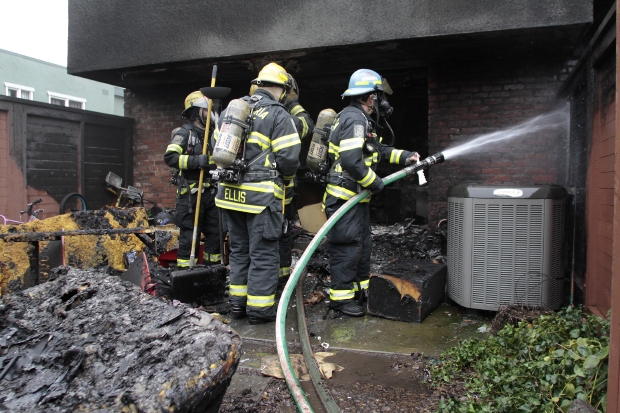 Victoria firefighters extinguish a row house fire at 2531 Blanshard St. on Tuesday afternoon.
Photograph by:
Lyle Stafford , timescolonist.com Feb. 28, 2012
Tears streamed down Tiana Pye's face Tuesday afternoon as she watched firefighters battle the last hot spots in the burned-out shell of her home.
Pye, who lived in the Evergreen Terrace row-house at 2531 Blanshard St. with her partner, Damien Sinclair, and four children, had just left for school when fire broke out and quickly raged through the unit.
A slightly singed laptop, handed to Pye by a firefighter, and a children's tricycle appeared to be the only possessions that survived.
None of the children, who range in age from two to seven, were home at the time.
Sinclair, who was in the bathtub when the fire started, watched in bare feet as firefighters put out hot spots in the gutted house.
"I don't know how it started," he said.
Victoria Fire Department platoon Capt. Jeff Zigay said the cause of the fire is still under investigation.
"We believe it started outside on the balcony area," Zigay said. Smoking materials are a possible cause, he said.
Although the fire started outside, it appears it rapidly spread inside through a patio door that had been blown in by strong winds, Zigay said.
The next-door unit in the row of seven homes has heavy smoke damage. The two families will be put up in hotels for three days through Emergency Social Services.
It was lucky the fire station is nearby — Fire Station No. 3 is just around the corner on Bay Street — as the fire could have easily spread to other houses in the complex, especially given the day's high winds, Zigay said.
"If it had got a foothold in there, it could have been a very difficult fire. We were able to knock it down and keep it to the unit of origin," he said.
Firefighters found heavy smoke and fire on the ground floor, and responded with aggressive interior attacks, including taking axes to floors and ceilings to ensure the fire had not got into the joists, Zigay said.
Neighbour Gwendolyn Atkinson was looking out of her window when she saw black smoke billowing up from houses across the footpath.
"I'm just so glad no one was in there," she said. "Every day you can see her coming out with those little kids."
Ken Parker was walking by when he noticed smoke.
Two people were trying to put out the fire with a small fire extinguisher, but they did not know whether anyone was in the house, Parker said.
"So I just kicked the front door in and it was just engulfed in black smoke," he said.
"I couldn't breathe. No one was in there, luckily. If there was someone in there, there's no way I could have gone in and got them."
Damage is estimated at $250,000. The complex, which was formerly known as Blanshard Court, is owned by B.C. Housing.
All the units are equipped with smoke alarms and sprinklers, said B.C. Housing spokesman Seumas Gordon.
jlavoie@timescolonist.com
We thought you might also be interested in..
Notice
: Undefined index: event in
/home/viccity/public_html/v2/content.php
on line
67