Tensions grow in teachers battle
Mar 03 2012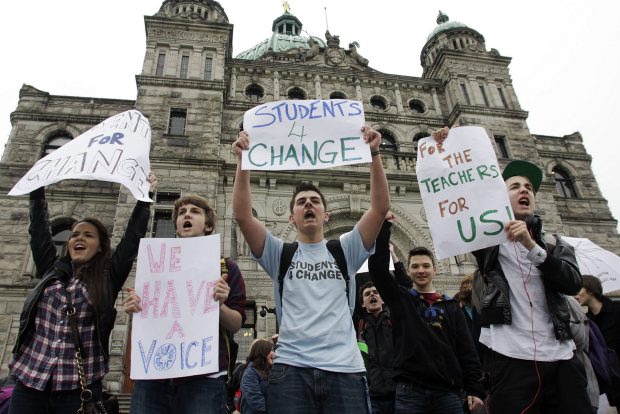 Students demonstrate against Bill 22 and in favour of teachers at the legislature in Victoria on Friday.
Photograph by:
Lyle Stafford , timescolonist.com
The battle between the B.C. government and public school teachers sets the stage for an anxious weekend in homes across the province.
Parents are scrambling to find safe places to put their children when the province's 41,000 teachers begin a three-day walkout Monday. Day programs at recreation centres are filling up, waitlists are growing.
The stress is particularly acute for those with special-needs children for whom qualified and safe care is not always easy to find, Ellen Tarshis, executive director of Community Living Victoria, said Friday.
Julie Bruce, whose 17-year-old daughter, Claire, has cerebral palsy and an anxiety disorder, said the change in routine is also difficult for students with special needs. Claire attends Grade 11 at Spectrum Community School in Victoria.
"What am I going to do with my daughter who is used to leaving the house at 8:30 in the morning and then coming back at 5 p.m.?" Bruce said. "I don't know what her day's going to look like, but I do know that she came home today and burst into tears."
B.C. Conservative leader John Cummins said Friday that the Liberal government could have prevented that stress on families by working through the weekend to pass back-to-work legislation. Instead, the government chose to play politics with children, he said.
"My view is that they're hoping that if the teachers walk off on Monday that there's going to be some sort of negative public reaction to it and it will solidify the government's position or at least they'll gain some support," he said.
"I think that that's a cynical move and I think it's putting the best interests of the kids in the back seat."
The government has refused to accelerate Bill 22, which would end job action and impose a cooling off period. The delay gives the B.C. Teachers' Federation the chance to stage a legal strike in protest against the bill and ongoing cuts to education.
Teachers received a morale boost Friday when about 200 high school students left classes in Victoria to attend a pro-teacher, anti-Bill 22 rally at the B.C. legislature.
Erin Galbraith, a 16-year-old Grade 11 student at Spectrum, said the legislation will do nothing to resolve the dispute, improve educatioin or ease the tension in schools.
"We want the smaller class sizes," she said. "We want the teachers to be happier. … We have provincials to study for, we have exams, and all this job action and tension doesn't benefit us in anyway."
lkines@timescolonist.com
We thought you might also be interested in..