Cancer survivor scaling mountains, beating odds
Mar 03 2012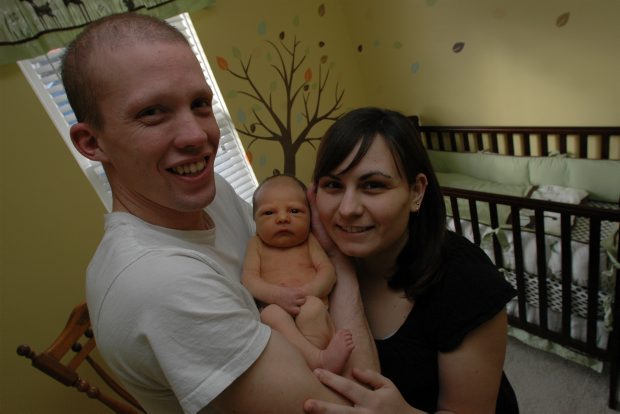 Tony Jeffs with his wife, Kelly, and new son, Owen Micheal Jeffs.
Photograph by:
Krista Bryce , Daily News
NANAIMO — Tony Jeffs climbed Mount Benson last fall, something unthinkable just two years earlier, when he was told he may have only six months to live.
The next day, he climbed the nearby peak again.
The 26-year-old Nanaimo man, diagnosed with lung cancer in October 2009, is now living a full and active life, volunteering his time to work with kids and studying to become an educational assistant.
What's more, he and wife, Kelly, welcomed a new addition to their family just last week, when Kelly gave birth to a seven pound, 10 ounce baby boy, their first child.
"At his worst, he was bedridden, so to go from that to Mount Benson and back to his mountain biking that he was doing . . . it's like it never happened," Kelly said Thursday.
The cancer in Tony's left lung began to spread in the fall of 2009 — at one time growing to a length of 24.5 centimetres — and compressed his ribs and moved his heart 10 centimetres.
He underwent a clinical chemotherapy trial in 2010, but it ravaged his body, causing him to lose his hair and sensation in his hands and resulting in overwhelming nausea.
Tony stopped the chemo and embarked on a naturopathic route for treatment, visiting Parksville twice a week for treatments including a vitamin C drip and ultraviolet and magnetic therapies.
The tumour began to shrink. His last chemo treatment was on April 14, 2010, and his last X-ray scan was in January of this year.
"I don't know what's in my left lung now for a tumour — I'm sure it's something, but it's something tiny," said Tony, who still visits the clinic in Parksville monthly.
When he began feeling better, Tony became an in-school mentor through Big Brothers and Big Sisters, volunteered for the Special Olympics and took on the role of short-term foster parent.
He is also in his first semester of study in Vancouver Island University's school and community support worker program.
Tony said he tries to "keep happy" and maintain a truly positive attitude.
"That's why I'm around all these kids. It's hard to have a pissy day when you're having so much fun."
Kelly said it has been one of the best years of her life, watching Tony improve and seeing him "shine" when he comes home from working with kids.
"So it's kind of like everything that the community helped him do, he's repaying back by volunteering with kids," she said, referencing the fundraising events held for Tony and the well-wishing cards that came from strangers.
Tony is just excited to be a dad "for real" to baby Owen Micheal Jeffs.
"Everybody's happy and healthy now," he said. "Couldn't be better."
We thought you might also be interested in..