City OKs demolition of heritage building
Mar 03 2012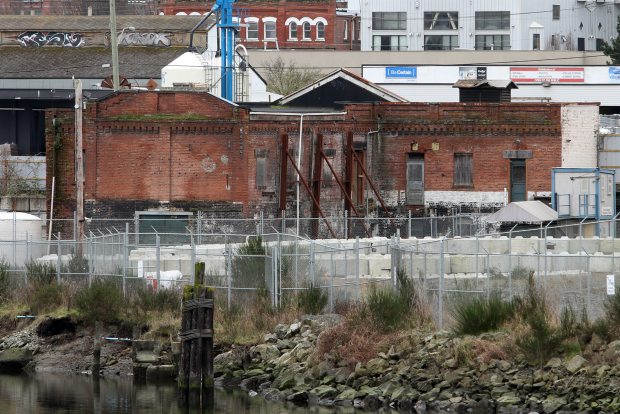 The Instrumentation Building at 512 Pembroke St.
Photograph by:
Bruce Stotesbury , timescolonist.com
The city has given its blessing to B.C. Hydro to knock down a derelict building in Rock Bay to facilitate the cleanup of the heavily contaminated site.
B.C. Hydro spokesman Ted Olynyk estimated cleanup would take five years, after which the plan is to put the property up for sale.
Three buildings listed on the heritage register are on the site: the Administration Building, at 502 Pembroke St., the Rock Bay Warehouse, 2110 Store St., and the Instrumentation Building, 512 Pembroke St.
While all three brick buildings are in serious disrepair and seismically vulnerable, an assessment determined the Instrumentation Building isn't salvageable.
As much of the contamination is directly beneath it, it will have to be removed. B.C. Hydro wants to complete its remediation of its properties and, in doing so, is willing to remediate adjacent portions of the Pembroke Street right of way.
Hydro has agreed to stabilize the other two other buildings on the site at an estimated cost of $1 million.
Rock Bay is listed as a high-profile contaminated site by the province. From the 1860s to the 1940s, Victoria Gas and then B.C. Electric operated a coal gasification plant there.
Efforts to remediate the area have been underway since the late 1980s and in the 1990s, B.C. Hydro partnered with Transport Canada, another landowner, to undertake remediation.
In 2005-06, cleanup of a substantial amount of the Rock Bay waterfront lands was completed, says a staff report to Victoria council.
Victoria Mayor Dean Fortin called the revitalization of the area exciting.
"This is the last substantive chunk of brownfield that the city has that can be put into play. There's some exciting possibilities around it that we look for the opportunity to explore."
Fortin said the biggest block to redevelopment has been the contaminated soil.
"Until they deal with this contamination, no one is going to be interested," Fortin said.
"This allows the project to move forward."
bcleverley@timescolonist.com
We thought you might also be interested in..