$16.5-million federal boost goes beyond bridge
Mar 04 2012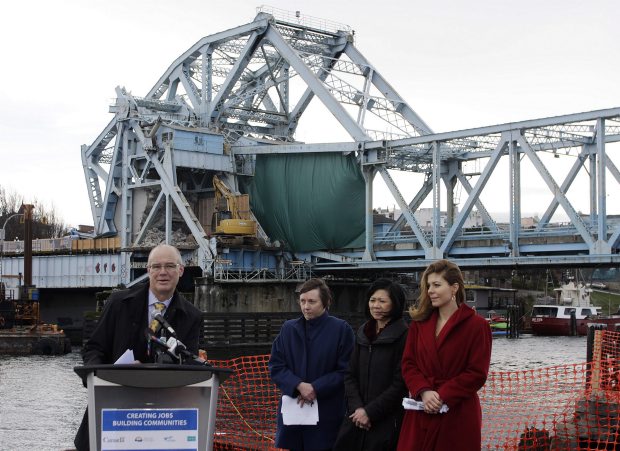 Dean Fortin, Mayor of the City of Victoria, speaks at a news conference to announce funding for the replacement of the Johnson Street Bridge as Member of Parliament Eve Adams (Mississauga-Brampton South), Parliamentary?Secretary to the Minister of Veterans Affairs (R), Honourable Ida Chong, BC's?Minister of Community, Sport and Cultural Development (C), ?and Rhona Martin, second vice-president of Union of British Columbia Municipalities look on.
Photograph by:
Lyle Stafford , timescolonist.com (March 2012)
Representatives from all levels of government were in Victoria Saturday to announce $16.5 million of federal gas-tax money to help pay for the replacement of the Johnson Street Bridge.
The money will cover costs for the multi-use path and bike lane components of the bridge, as well as provide funds for other projects in the region.
Ottawa had already pledged $21 million from the Building Canada Fund for the $77-million bridge project and $8 million from the Gas Tax Fund.
The $16.5-million grant announced Saturday is in addition to that original promise of $8 million. The new money will be used for other priority infrastructure projects, Mayor Dean Fortin said.
The mayor recalled a conversation with a senior economist from the Bank of Canada who talked about the importance of building a landmark bridge for the city.
"Victoria cannot afford to have a second-rate project," he recalled the economist as saying. "We need a signature bridge that reflects our role as the provincial capital."
Fortin was joined at the announcement by provincial and federal politicians, including MLA Ida Chong, minister of community, sport and cultural development.
Chong, however, was criticized by NDP MLA Rob Fleming, who slammed the provincial government for not contributing any money to the project.
"I think it's completely bizarre that Ida Chong would be there representing the province, talking about partnerships, while bringing nothing to the table," Fleming said.
"The B.C. Liberals have routinely turned down money for this project, but the federal government, to its credit, worked with the city to find another funding avenue."
Chong said federal gas-tax money is given to the provinces to distribute, but the Union of B.C. Municipalities administers the money on B.C.'s behalf.
"It is federal money, I'm not disputing that, but the provincial government is definitely involved in determining where that money goes," she said.
"There have been plenty of projects that we provide funding [for] without any federal money."
Victoria and the federal government are splitting the cost of replacing the Johnson Street Bridge almost equally, with Ottawa's portion now at $37.5 million. dspalding@timescolonist.com
We thought you might also be interested in..
Notice
: Undefined index: event in
/home/viccity/public_html/v2/content.php
on line
67