How parents are trying to cope with three-day teachers' strike
Mar 04 2012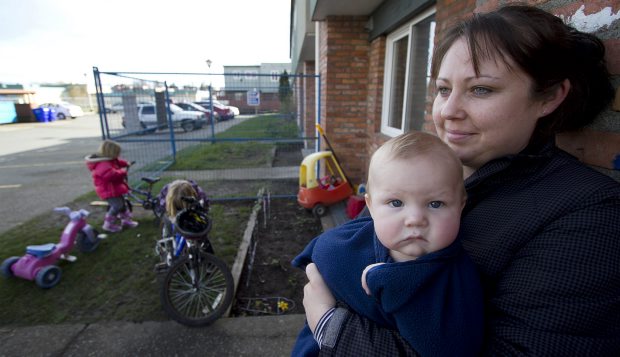 Kari Rozentals holds her 10-month-old son, Ben, as her daughters, Olivia, 4, left, and Madison, 7, play at Evergreen Terrace in Victoria.
Photograph by:
Adrian Lam, timescolonist.com (March 2012)
A three-day walkout by B.C.'s public school teachers beginning Monday will affect Kari Rozentals as a student and as a parent.
The young mother of four children, ages 10 months to 13 years, is worried the strike will affect her ability to complete her biology course at S.J. Willis Alternative School.
Rozentals is also upset her children will miss school and their routines.
"I don't know what I'm going to do. Probably just stay home," Rozentals said Saturday, cradling baby Benjamin on the steps of her Evergreen Terrace townhouse.
"It's upsetting. My son is in a special program at Shoreline. His routine will be interrupted. And I live in subsidized housing, so we don't have tons of money to entertain."
Rozentals is also worried she'll have to cram to make up for the schooling she will miss.
"Now our course is either going to be shortened or we're going to put so much more into it," she said, glancing at her young daughters playing on the lawn. "And how do you do that with four children?"
John Walmsley was in a better situation heading into Crystal Pool with his two boys Saturday afternoon. He and his partner haven't quite worked out who will be looking after Sam, 9, and Ben, 7, on Monday, Tuesday and Wednesday.
"We'll probably share looking after them," he said.
But like many parents caught in a child-care crunch, Walmsley expects he will have to use a few vacation days. "It's kind of frustrating that the two sides weren't able to work it out earlier," he said.
Single mother Brenda Lennox waited a little too long to register her daughter Aidan, 9, for the day camp at the Oak Bay Recreation Centre. The camp has filled 52 spaces and has a wait list of 10 children.
"Probably, my 15-yearold son will have to babysit, but that's a lot to ask him to do for three days," Lennox said. "And then I'm really worried about them going back for two days, if they're not given a lot of homework. Then they get the two-week spring break off, so effectively they've had three weeks away from school, and that's very worrisome for me."
Lennox said she has not looked into the teachers' issues and doesn't want to.
"I'm just noticing the impact on the children, and it's a long time to be without school."
By Saturday afternoon, day camps at the Saanich recreation centres were about 75 per cent full. Gordon Head Rec Centre was almost fully booked, but a number of spots were still available at Commonwealth Place and Pearkes Rec Centre. Day camps at the Panorama Rec Centre still had plenty of room. Esquimalt Recreation Centre is running a day camp from 6: 30 a.m. to 6 p.m. and has space for 25 more children.
West Shore Parks and Recreation is extending its licensed out-of-school care to full days but space is limited.
ldickson@timescolonist.com
We thought you might also be interested in..