UVic biology prof receives fellowship to study effects of fishery on coral reefs
Mar 04 2012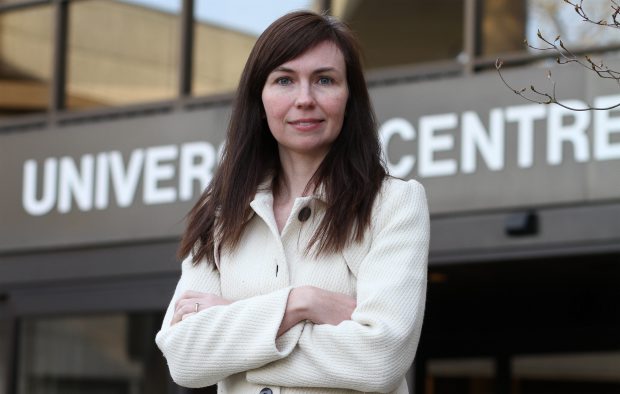 Julia Baum: $50,000 award will offset research expenses.
Photograph by:
Bruce Stotesbury, timescolonist.com (March 2012)
A rising star among researchers at the University of Victoria does most of her work in the deep blue sea.
Julia Baum, an assistant professor in the biology department, was named among 126 recipients of the 2012 Sloan Fellowships, an annual award that identifies young scientists and scholars with potential to excel.
Baum, 36, from Guelph, Ont., came to UVic from Dalhousie University to continue her research in ocean studies. She has been studying the impact of fishing on seahorses and sharks caught as bycatch - those that are not the target species.
Baum became interested in bycatch, "the collateral damage in fisheries," which, she says, is often overlooked by fisheries management. "Most of the focus goes to the target species because those are the ones obviously being impacted."
She and her fellow researchers at Dalhousie found dramatic drops in bycaught sharks in the north Atlantic.
"We can never say 100 per cent what the cause is, but we think it's fishing pressure, both direct and indirect," she said.
On the West Coast, Baum is interested the effect of the fishery on coral reefs. The reefs offer a contained area for study, instead of tracking sharks over the entire Atlantic Ocean, she said.
"With coral reefs, we can go out and study a whole ecosystem," said Baum, who is working on the project with U.S. scientists from the National Oceanic and Atmospheric Administration.
Forty-five coral reefs in the central Pacific, ranging from pristine to heavily damaged by fisheries, are being studied.
Baum and her colleagues count and measure fish species. They also measure the coral and run experiments on grazing and predation rates. Fish are dissected in a lab.
She was always concerned about the detrimental effects on the environment and the conservation of endangered species, but it was only as an undergraduate that Baum decided to make the subjects a focus of her career.
The $50,000 award from the Sloan Foundation will offset the expenses of her research.
"It's expensive to get all our equipment there and it's expensive to dive," Baum said.
She said reef sharks have not posed any dangers to the scientists, adding, "I can't perpetuate the myth of dangerous sharks."
The worst injuries to scientists so far have been from the spines of sea urchins getting stuck in prodding fingers, she said.
smcculloch@timescolonist.com
We thought you might also be interested in..