Mountain biker OK after spending cold, wet night lost in Mount Wells woods
Mar 05 2012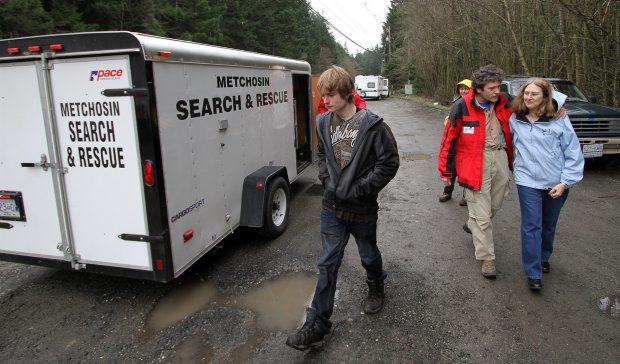 Search manager Craig Barlow hugs Debbie Abraham as her son Russell, left, walks at the Metchosin Search and Rescue command centre on Sooke Road Sunday, March 4, 2012.
Photograph by:
Adrian Lam , timescolonist.com (March 2012)
Russell Abraham was a little embarrassed, but otherwise healthy after spending a cold, wet night lost in the woods in Mount Wells Regional Park.
The 21-year-old mountain biker got lost while exploring the park trails Saturday afternoon. He was initially able to contact his mom, Debbie, from his cellular phone, but the battery died and he was on his own.
Metchosin Search and Rescue co-ordinated the hunt from a command centre set up on the shoulders of Sooke Road, near Happy Valley Road.
More than 20 people used GPS systems, radios and whistles as they searched trails by foot and on quad all-terrain vehicles.
The search continued throughout the night, with search-and-rescue relief arriving from Saanich and Juan de Fuca in the early morning. About 10 a.m., Abraham stumbled out of a trail near Ragged Mountain and came upon two searchers.
When the call came in to the roadside headquarters, a tearful Debbie Abraham was relieved to know her son was alive and healthy.
"We were worried. His dad [John] and I didn't really get any sleep last night," she said. "You imagine all sorts of things: He fell off a cliff, broke his leg — or who knows? There's cougars and bears out there, for heavens sake."
It was Liz Williams and Lyn Edmondson of Juan de Fuca Search and Rescue who discovered Russell Abraham. While they were packing up after a snack and deciding where to look next, the mountain biker came out of the woods.
"We were whistling and hollering all day, but he said he didn't hear us," Edmondson said.
Abraham's pant legs were soaked from the knees down. All he had for warmth were a T-shirt and hoodie. And he didn't want to discuss his ordeal publicly.
His mother said he had left to go mountain biking around noon Saturday. He called around 5:30 p.m. before his phone died.
"He said he was lost and had been going in circles for a couple of hours," Debbie said. "I tried to phone him back on his cell and there was no answer. Then he managed to make another call about an hour later. And it was pitch black by then and I had already called Search and Rescue, so I said: 'Just stay where you are.' "
Searching through the night is not an easy task.
"Your visibility are only as good as your flashlight, so we do the best we can," Metchosin Search and Rescue manager Craig Barlow said. "We try to stay on main trails. We don't get into bushwhacking unless we have really good clear evidence that's where the subject is."
dspalding@timescolonist.com
We thought you might also be interested in..
Notice
: Undefined index: event in
/home/viccity/public_html/v2/content.php
on line
67