Sponsored flight to Victoria for hockey game has Vancouver kids sky-high
Mar 05 2012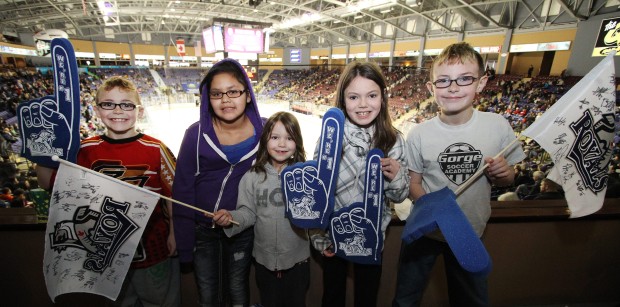 From left, Jaxon Stapley, 8, Kayla James, 11, Emily Skaalrud, 6, Kendra Skaalrud, 9, and Tyson Stapley, 11, of the Victoria Boys and Girls Club, take a timeout from the action at the Save-on-Foods Centre to pose for this photo on Sunday, March 4, 2012.
Photograph by:
Adrian Lam , timescolonist.com
Eleven young Vancouver Giants hockey fans got a taste of first-class treatment Sunday when they flew into Victoria to catch an afternoon game against the Victoria Royals at Save-On-Foods Memorial Centre.
For many of the pre-teen children, this was their first flight and their first seat at a hockey game. And they had some of the best seats in the house, overlooking the ice from a private suite.
The trip was compliments of Harbour Air, Aramark and RG Properties, who worked with Vancouver Boys and Girls Club to provide children with a chance to see one of the newest rivalries in the Western Hockey League.
Inspiration for the idea came from the Royals organization, which had wrapped a Harbour Air seaplane with a decal of the team's logo. The advertising was part of a marketing campaign launched after the team was moved last year from Chilliwack to Victoria.
From there, organizers of the Boys and Girls Club approached Harbour Air to see if they would work out a deal to get their members to a game.
Harbour Air went a step further and chartered a plane to fly the kids from Vancouver Sunday morning. The children then had full access to the company's private suite to watch the game.
Next door, another 15 children from the Victoria Boys and Girls Club cheered in a private suite donated by RG Properties.
Normally, the total package would have cost about $5,000, explained Meredith Moll, vice-president of sales and marketing for the Harbour Air Group.
"We try and do these things for the community. And any time we are asked to take part, we do whatever we can," she said. "This opportunity worked out well."
The visiting children had access to Royals schwag and they used the flags and over-sized hands to nab the cameraman's attention, but there was no confusion about who they wanted to win.
"I'm cheering for the Giants," said Faith, one of the children. (The Vancouver club did not want the last names of their members published.)
Faith wasn't disappointed. The teams split their weekend series at the arena, with Victoria winning 5-2 on Saturday and Vancouver cruising to a 6-0 victory on Sunday.
The day was a memorable one for the children, who touched down in Vancouver waters Sunday evening to return home.
"None of them have even been on a floatplane before. It's just an awesome opportunity for these kids," said Lee McIsaac, a co-ordinator with the Vancouver Boys and Girls Club. "They won't likely get an opportunity like this again."
dspalding@timescolonist.com
We thought you might also be interested in..