Giants shut out Royals, gain weekend split
Mar 05 2012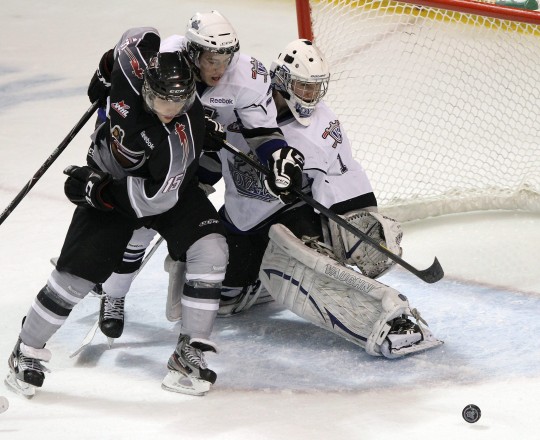 Victoria Royals goaltender Jared Rathjen holds the fort as teammate Hayden Rintoul (centre) and Vancouver Giants' Riley Kieser fight for the puck during their WHL game at the Save-on-Foods Centre on Sunday, March 4, 2012.
Photograph by:
Adrian Lam , timescolonist.com
Dinah Washington was right.
What a difference a day makes. In this case, even less than her famous "24 little hours."
The Victoria Royals followed up one of their most inspired performances of the Western Hockey League season — a 5-2 Saturday night victory over the Vancouver Giants — with a Sunday matinée dud as the Giants skated to a comprehensive 6-0 victory over Victoria before 5,935 subdued fans at Save-on-Foods Memorial Centre.
"They were totally different games," Royals forward Tim Traber said.
"[Saturday] we came out flying and hitting, but were flat today."
It was a divergent tune, of course, being hummed Sunday afternoon in the much happier Giants dressing room.
"That was a real solid game for us from start to finish," said Vancouver head coach Don Hay, who admitted to being displeased by his club's Saturday showing.
"We played Friday, too, so this was our third game in three days and I didn't know what we'd be like today. But we have good leaders in our group," added the veteran mentor Hay, who coached Canada to the bronze medal this year at the 2012 world junior championships.
Everybody pointed to the first goal, at just 15 seconds by Riley Kieser, as being key.
"It was a small mistake right off the bat and it cost us," Traber said.
After Saturday night, Hay was looking for a quick boost and got one.
"Taking the lead today, so early at 15 seconds, was important for us," he said.
Royals GM and head coach Marc Habscheid indicated another turning point.
"It was close until they got the second goal [on the power play at 3:45 of the second period by defenceman and 2011 second-round Edmonton Oilers draft pick David Musil]," he noted.
"Then Vancouver turned it up and really pushed. It was like the ice was tilted."
Habscheid's descriptive phrase pretty much summed up the afternoon as the Giants outshot the Royals 37-18. Starting Victoria goalie Jared Rathjen gave up five goals on 31 shots over two periods before giving way to Keith Hamilton, who allowed one goal on six shots in the third period.
The six-foot-three Adam Morrison, a 2009 third-round draft pick of the Philadelphia Flyers, recorded his 32nd win and first shutout of the season with 18 saves.
The goals came from Kieser, Musil, Jackson Houck, Cain Franson, Tyler Vanscourt and Matt Bellerive as the Giants moved to 37-25-4.
The Royals are 21-39-6 and down to six games remaining as they shakily hold the seventh of eight playoff positions in the Western Conference. Victoria is one point ahead of the eighth-place Everett Silvertips and four points in front of the ninth-place Seattle Thunderbirds, but the Silvertips hold a game and the Thunderbirds two games in hand on the Royals.
The Royals remained six points ahead of the 10th-place Prince George Cougars, who also retain a game in hand.
"There is a huge sense of urgency," Traber said.
"Every game is huge for us."
Victoria now embarks on a four-game road trip that is as geographically unusual as it is crucial. The Royals travel back and forth across the U.S. border for games Wednesday in Everett, Friday in Kelowna, Saturday back in Everett and next Sunday in Vancouver.
The regular season concludes with a home set against the Portland Winterhawks March 14 and March 16.
"We've just got to find a way to get points," Habscheid said.
"We got two [Saturday] and none today. When you've got a young group like this, inconsistency happens."
cdheensaw@timescolonist.com
We thought you might also be interested in..