Teachers from across B.C. to rally at legislature Tuesday
Mar 06 2012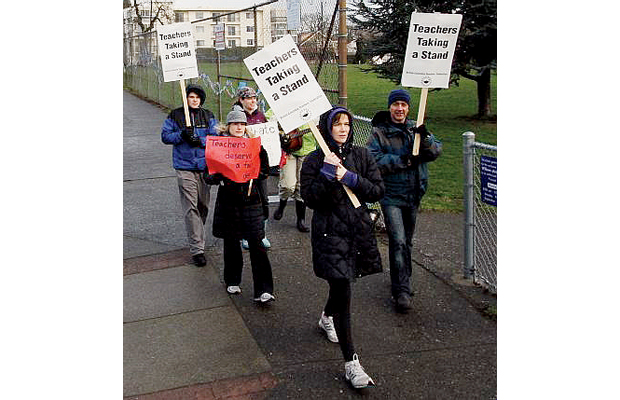 Teachers demonstrate in front of Willows Elementary on Monday
Photograph by:
Adrian Lam , timescolonist.com (March 5, 2012)
Striking teachers from across the province are expected to march on the parliament buildings in Victoria Tuesday to protest legislation that will force an end to their labour dispute with the B.C. government.
Union officials say thousands of teachers will arrive by ferry and chartered buses from the Lower Mainland, while others will fly or drive in from outlying districts. They plan to meet at Centennial Square and walk to the B.C. legislature for a noon-hour rally.
Organizers expect more than 5,000 teachers and union supporters to attend.
"It's going to be big, I think," said Tara Ehrcke, president of the Greater Victoria Teachers' Association.
The rally comes at the mid-point of a three-day walkout by 41,000 teachers that closed schools across the province Monday.
The B.C. Teachers' Federation, which has been without a contract since last June, wants a 15 per cent wage increase over three years, improved benefits and the ability to negotiate classroom conditions that were removed from their contracts in 2002. They accuse the government of attacking their bargaining rights, seeking deep concessions and undermining B.C.'s public education system with repeated cuts.
Education Minister George Abbott says the union's demands are out of step with today's tough economic times. The Liberal government wants a deal that falls within its net-zero mandate, which means public sector unions can only negotiate wage increases if they find savings elsewhere in their contracts.
Last week, Abbott introduced Bill 22, which will halt job action, impose a cooling off period and appoint a mediator to find a deal within net-zero.
The Liberals and the Opposition NDP, however, plan to take their time debating the bill, giving the union time to stage a legal walkout,
The Labour Relations Board ruled last week that teachers can strike for three days this week and one day in each subsequent week until Bill 22 passes. Teachers are not allowed to set up picket lines, but can distribute information.
On Monday, they gathered outside schools in Victoria with signs that said "Teachers Taking a Stand" and handed out leaflets with the headline, "We can't help your kids without taking a strong stand now."
Grade 8 teacher Jeni Scott and her colleagues outside Rockheights Middle School said the strike is not about wages.
"I don't know that any of us are standing out here for money, I'm certainly not."
She said class composition — the high number of students with learning and physical disabilities and different grade levels — and the need for more "learning support teachers" are the main issues.
She said she dreads the number of times she hears "Ms. Scott, can you help me?" during the day because she can't possibly get to all the students who need her. Scott said she has four or five students in one class who can't read.
"They are not getting what they need every single year."
South Park Family School teacher Louise Bernamoff hopes the three-day strike will put pressure on the government to withdraw Bill 22 and return to the bargaining table.
"You look at protests around the world over the last 12 months, and I guess it takes an awful lot to get the government to change their mind and do the right thing," she said. "But we're starting here."
Ken Thornicroft, who teaches labour relations at the University of Victoria, doubts the strike will accomplish much beyond giving teachers a chance to vent. He said the two sides are at a "hopeless impasse" and, with legislation pending, it's unclear what the union hopes to gain.
"I'm sort of tempted to the view, as silly as this may sound, this is really just about catharsis," he said. "I think the teachers needed to blow off some steam and maybe the government recognizes that there was a need for them to be able to blow off some steam." — with files from Rob Shaw
ceharnett@timescolonist.com
lkines@timescolonist.com
We thought you might also be interested in..