Estimated crowd of 5,000 gathers at legislature for teachers' rally
Mar 07 2012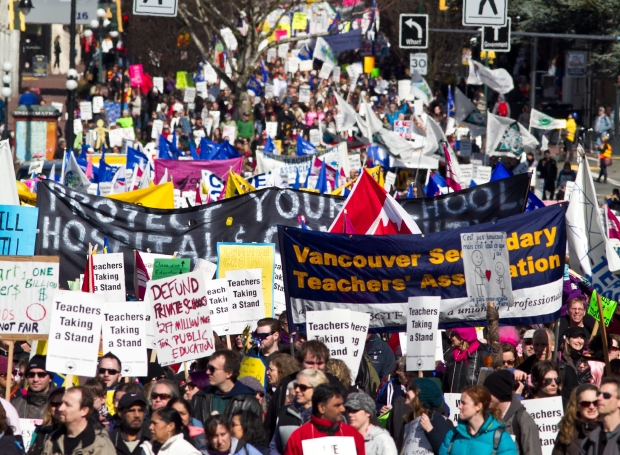 Demonstrators march down Government Street to a B.C. Teachers Federation and B.C. Federation of Labour rally at the B.C. legislature
Photograph by:
Darren Stone , timescolonist.com
Union leaders looked over an estimated crowd of 5,000 striking teachers and union supporters on the lawns of the legislature at noon Tuesday and hailed it as a shining example of solidarity.
"This is what democracy looks like," said Susan Lambert, president of the B.C. Teachers Federation.
Teachers marched to the legislative buildings in Victoria to protest against Bill 22, legislation that will force an end to their labour dispute with the B.C. government.
The crowd was led by Lambert, B.C. Federation of Labour president Jim Sinclair, B.C. Government and Service Employees' Union president Darryl Walker and Canadian Union of Public Employees president Barry O'Neill. Along Government Street they chanted: "Hey hey, ho ho, Bill 22 has got to go" and "Kill Bill 22."
"This is what solidarity looks like, when they attack one of us, they attack all of us," said Sinclair, the first speaker at the legislature.
He blasted the B.C. government for Bill 22, warning that B.C.'s other unions would refuse to accept future back-to-work legislation.
"We will fight and fight until we defeat Bill 22," he told a cheering crowd of thousands assembled on the legislature front lawn.
Sinclair pointed to the legislative building itself, shouting: "The fact that the people in this building don't respect us is a sad comment on them, not us. It's a shameful comment on them."
The working people of B.C. built the province, said Sinclair: "Today we say to this government we've had enough."
Chants of "shame" wafted through the crowd.
Most of the B.C. NDP's MLAs attended the rally, including leader Adrian Dix. But almost no Liberal government MLAs could be spotted.
However, B.C. Education Minister George Abbott responded to attacks on Bill 22. He said teachers rejected mediation under Bill 22 because it is clear they won't get the "unreasonable" $2-billion wage increase they are demanding.
Teachers are asking for 15 per cent wage increase over three years.
"Last week, I introduced Bill 22, which sets a cooling off period and suspends the teachers' union strike action while calling on the assistance of a mediator," Abbott said in a news release.
"It also implements the $165-million Learning Improvement Fund and other measures that will play a fundamental role in the future of education in our province," Abbott said. "Government has clearly and consistently stated that the BCTF's demands for a $2-billion increase to wages and benefits are completely unreasonable given the current economic reality."
The BCTF said Bill 22 is evidence of the Liberal government's arrogance.
"The people of B.C. want this dispute settled fairly and reasonable and now, and they want a negotiated settlement reached at the table respectfully with teachers," Lambert said.
If government pushes through the legislation, it needs to know "that we've only just begun," Lambert said.
"When they do they need to know the teachers of B.C. will defend public education with all our wit, and all our strength, and they need to know we will not rest, we will not waver," Lambert said. "They need to know we will resist."
Several people in the crowd were wearing B.C. Fed signs that read: "We are one."
Tom Duncan, an ICBC employee and member of COPE 378, said it's time for Premier Christy Clark to back up her "families first" slogan.
"These are families — working families — and Christy should stand up for what she's been talking about," Duncan said. "The teachers should be allowed to negotiate a fair contract."
ceharnett@timescolonist.com
rfshaw@timescolonist.com
We thought you might also be interested in..